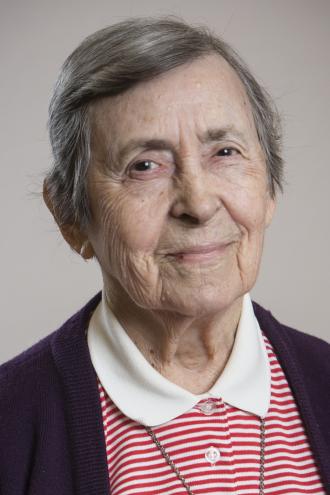 Birth: January 21, 1924
Profession: July 31, 1953
Death: April 21, 2019
Religious of the Sacred Heart, Anne "Bebe" Guillot died April 21, 2019, in Atherton, California.
Anne Beryl Guillot, was born in Hessmer, Louisiana, on January 21, 1924. Affectionately known as Bebe, she was the only child of Alfred E. Guillot and Mary Zelina Roy Guillot. Her father was the manager of several cotton gins, requiring that the family move frequently. Therefore, Bebe attended many different elementary schools, both public and Catholic and loved each of them. She learned to play piano when she was six years old and through the years learned to read music and play by ear. From a young age, she excelled in math and languages and felt an attraction to religious life. Bebe attended Southwest Louisiana State University and earned bachelor's degrees, with a double major in French and Spanish and a minor in math.
Following graduation, Bebe's first teaching assignment was at the Academy of the Sacred Heart in Grand Coteau, Louisiana. It was during this first year of teaching that she became acquainted with the Society of the Sacred Heart, and her attraction to religious life was rekindled. After one year of teaching, she entered the Society in 1945 at Kenwood, in Albany, New York.
Upon entering, Bebe found the novitiate a new and fearful place. She had always had her own room, and now she had to sleep in a dormitory with twenty-five other women whom she did not know. She eventually settled in to her new way of life and made her first vows in 1948 at Kenwood. During the five years before her final profession, Sister Guillot taught math at the Sacred Heart academies in Grand Coteau and New Orleans. In 1953, she made her final profession in Rome.
After she returned from Rome, Sister Guillot became treasurer in both the community and school at St. Charles, Missouri, and taught math. The following years had her moving frequently among the houses in St. Charles, the Rosary, Villa Duchesne, and Grand Coteau. While an RSCJ friend recalls that Bebe was a wonderful and generous teacher, Bebe admitted to preferring working in the treasury to teaching. She also admitted preferring to play the piano when there was no one around so that she could freely play in her own style.
For nine years beginning in 1971, Sister Guillot lived at Maryville College, dividing her time between the business office there and the provincial treasurer's office in St. Louis. During the summers, she studied accounting at the University of Notre Dame and earned an M.A. in accounting in 1974. She later moved back to Grand Coteau and began working as an instructor at the Delta School of Business in Lafayette, Louisiana. She later had to resign her position to care for her mother who was ill. After her mother died, Bebe became an instructor at the Spencer Business College in Lafayette.
During the 70s and 80s, Bebe and an RSCJ friend made an annual retreat with Father Dick Rice, S.J. Father Rice became a life-long friend whose influence turned Bebe from academia to parish work. Bebe returned to her native town of Hessmer, to St. Alphonsus Parish, where she became director of religious education and directed the RCIA program. She worked well with the pastor who delegated many tasks to Bebe because of her initiative and discretion. When the pastor was transferred in 1991, Bebe followed him to the new parish, St. Mary Assumption in Cottonport, Louisiana. She again served as the Director of Religious Education. She was also the organist for the parish and even drove the school bus occasionally. She stayed at the parish until 2006 and then moved back to Grand Coteau. Over the next few years, Bebe did substitute teaching in several schools in St. Landry Parish. She shared a cottage with two other RSCJ and eventually lived on her own in an apartment in town. Accompanied by her little dog, she would return to Grand Coteau each week to work in the community treasury.
In 2010, Sister Guillot moved to Oakwood, the retirement community for the Religious of the Sacred Heart in Atherton, California. While the move from her beloved Grand Coteau was hard for her, she came to know and love her new community, where she could enjoy the activities and the peaceful atmosphere of Oakwood. She became the pianist for the much loved sing-alongs held at Oakwood.
After two years at Oakwood, she enjoyed an extended family visit and returned to her southern roots. This visit to Grand Coteau helped her to bring closure to her active life and say farewell to many friends. She was welcomed back at Oakwood and embraced her new life of retirement. Her final years were peaceful and contented. At dawn, on Easter Sunday, April 21, our resurrected Lord came to take Bebe with him into eternal life.
Sister Guillot is survived by a number of family members and friends and her sisters in the Society of the Sacred Heart. Funeral services for Sister Guillot will be held on Saturday, May 3, 2019, at 10:00 a.m. in the Oakwood chapel. Burial will be in Grand Coteau, Louisiana.