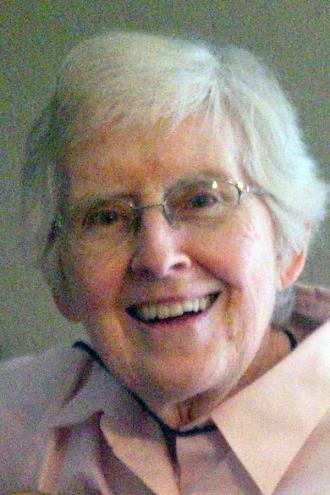 Birth: February 15, 1945
Profession: January 6, 1978
Death: August 10, 2019
Religious of the Sacred Heart, Annice Callahan, died August 10, 2019, in Atherton, California.
Annice Callahan was born on February 15, 1945, in Fairborn, Ohio, to John Gualbert Paul Callahan and Marie Bernadette Callahan. She was one of four children, with two sisters and a brother. After graduation from Barat College in 1966, where she earned a bachelor's degree in Theology, Philosophy, and French. Annice entered the Society of the Sacred Heart at Kenwood in Albany, New York. Two years later, she made her first vows at Kenwood. During her early years in the Society, she taught English and Religion at Duchesne Academy in Omaha, Nebraska, and Woodlands Academy in Lake Forest, Illinois. After earning an master's degree in Systematic Theology at the University of San Francisco, she worked for six months at the Sacred Heart college in Pucheon, Korea, as a Religion curriculum director and Religion and English teacher. She went on to probation at the Sacred Heart novitiate in Manila, Philippines, where she made her final profession in 1978. Upon returning to the U.S., she began doctoral studies in Theology at Boston College, earning a Ph.D. in Systematic Theology in 1984. She wrote her dissertation on Karl Rahner and spent seven months in Innsbruck, Austria, having lengthy conversations with him.
Sister Callahan served on the faculty of Boston College as a lecturer in the Theology department, and for one year, she was a Leo John Dehon Research Fellow at the Sacred Heart Seminary and School of Theology at Hales Corner, Wisconsin. From 1985 until 1998, Sister Callahan was a tenured associate professor at Regis College in Toronto, Ontario, Canada, and later at the University of San Diego, for twelve years. Sister Callahan was a prolific writer and lecturer. She published a number of articles on spirituality, especially on devotion to the Sacred Heart and the spirituality of the Society, and lectured widely on these topics. Among her published works were four books, Karl Rahner's Spirituality of the Pierced Heart: A Reinterpretation of Devotion to the Sacred Heart, her doctoral dissertation published in 1985; Spiritualties of the Heart: Approaches to Personal Wholeness in Christian Tradition, published in 1990; Spiritual Guides for Today: Evelyn Underhill, Dorothy Day, Karl Rahner, Simone Weil, Thomas Merton, Henri Nouwen, published in 1991; and, Evelyn Underhill: Spirituality for Daily Living, published in 1997. She was also the editor of the issue of RSCJ: A Journal of Reflection, published in 1988.
Sister Callahan, a life-long academic, found that she needed the time and space to embrace her own spirituality in a deeper way. There was tension between giving herself to her students and her academic work and finding time for her own evolving spiritual life. After leaving the University of San Diego in 2011, she moved to New Orleans and became the pastoral care coordinator for Christopher Homes, Inc., a senior living ministry of the Archdiocese of New Orleans. While she continued to write, she embraced the more relaxed pace and found balance in her work and in community life. In 2016, Sister Callahan left New Orleans to undergo cancer treatments at the Oakwood Retirement Center in Atherton, California. She planned to return to New Orleans, but soon realized and accepted the fact that the debilitating fatigue from the chemotherapy meant that she could not go back and asked to remain at Oakwood. There she found the peace and space she needed until on August 10, 2019, Sister Callahan's struggle with cancer ended when she went peacefully to God.
Sister Callahan is survived by her sisters, Clare Callahan from Cincinnati, Ohio; Aileen Callahan from Cambridge Massachusetts; and her brother, John Callahan, from Wimbledon, England, and her sisters in the Society of the Sacred Heart.
A memorial Mass for Sister Callahan will be held at 10:00 a.m. on Saturday, September 7, 2019 in the Oakwood Chapel, 140 Valparaiso, Atherton, California 94027. A sharing of memories will follow the Mass.
Memorial contributions can be made to the Society of the Sacred Heart, 4120 Forest Park Avenue, St. Louis, Missouri 63108.