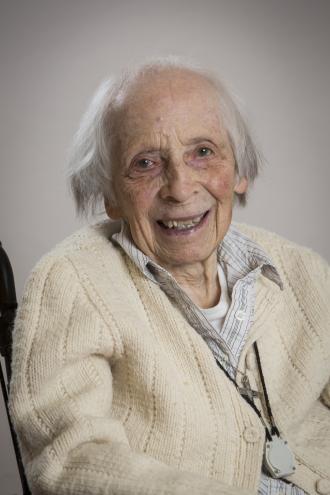 Birth: October 11,1920
Profession: July 30, 1951
Death: November 16, 2020
Religious of the Sacred Heart, Barbara Carey, RSCJ, died November 16, 2020, in Atherton, California. Barbara Carey was born on October 11, 1920, in Detroit, Michigan, to Liguori John Carey and Lena Carey. After graduating in 1943 from Marygrove College in Detroit, she entered the Society of the Sacred Heart at Kenwood in Albany, New York. She pronounced her first vows in 1946 at Kenwood and made her final profession in Rome in 1951.
Sister Carey served in various faculty and administrative posts in Sacred Heart schools for nearly forty years. Among them were the Convent of the Sacred Heart in Rochester, New York, where she taught and served as treasurer before she went to the Academy of the Sacred Heart, Eden Hall, Philadelphia. She taught at Newton Country Day School of the Sacred Heart from 1952-1956 and returned to Eden Hall in 1956 where she taught for four years. In 1960, Sister Carey began working again at Newton, this time as treasurer for the school while studying at Boston College where she earned an MA in Philosophy in 1961, and later an MA in Interdisciplinary Studies at Manhattanville College, Purchase, New York, in 1972. Sister Carey also taught at Stone Ridge School of the Sacred Heart, Bethesda, Maryland (1965-1967), Convent of the Sacred Heart, Elmhurst, Providence (1967-1972) and Stuart Country Day School, Princeton, New Jersey, until 1974. Following this, Sister Carey taught English as a second language at Songsim College, now the Catholic University of Korea, for two years. She returned to the U.S. in 1976 and enrolled at the Jesuit School of Theology at Berkeley, California, studying at the Institute of Spiritual Leadership. From 1977-1979, Sister Carey served in pastoral ministry at Newton-Wellesley Hospital in Newton, Massachusetts. She was a pastoral associate at St. Joseph Church in Bound Brook, New Jersey, and at Our Lady of Lourdes Parish in Whitehouse Station, New Jersey from 1979 to 1985.
In 2011, at the age of 91, Sister Carey retired to the Oakwood Retirement Community in Atherton, California. This past October, she was very excited to celebrate her 100th birthday that she didn't sleep the night before. She enjoyed her special day with her sisters and the staff at Oakwood, which included a cake and her favorite meal. One of the staff was heard to say that Barbara "had been bringing sunshine every day since 1920." In a recent conversation with one of her sisters, Barbara shared that "life is meant to be loving." Barbara Carey went peacefully to God on November 16, 2020, a little over a month after her 100th birthday. 
A funeral mass will be held for Sister Carey at the Oakwood Chapel in Atherton, California, at a later date.