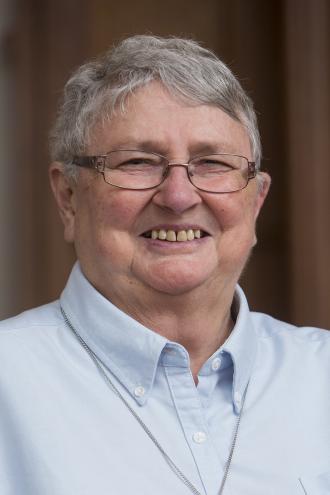 Birth: June 10, 1938
Profession: August 22, 1970
Death: July 27, 2019
Religious of the Sacred Heart, Barbara Moreau, died July 27, 2019, in Grand Coteau, Louisiana.
Sister Barbara Moreau was born on June 10, 1938, in New Orleans, Louisiana, to John Herbert Moreau, Sr., and Una Bernadette Lalonde. A religious for 54 years, she made her first vows at Kenwood in Albany, New York, and her final profession in Grand Coteau, Louisiana. Prior to entering the Society, Sister Moreau earned a bachelor's degree in Physical Education from the University of Southwestern Louisiana and was a coach at a Sacred Heart high school, where she was first introduced to the Society. She had attended public schools and referred to herself as a "public school person." She later went on to graduate studies at Notre Dame, where she earned a master's degree in Administration.
Sister Moreau's ministries over the years included administration and teaching in Sacred Heart schools in Saint Louis and Saint Charles, Missouri, and Grand Coteau, Louisiana. She was dean of students at Grand Coteau and at Saint Charles, treasurer and director of the boarding school at Grand Coteau, where she influenced the lives of many alumnae during her 14 years there. For some time in Saint Charles, she did pastoral care with a number of her sisters at the Regis Retirement Center, where she was dearly loved. She was conference manager at the Center for Educational Design and Communication at the Stuart Center in Washington, D.C., and later handled hospitality at the provincial office in St. Louis. A woman of hospitality and generosity, her love of people combined with her love of cooking brought many together. Those who knew her found her to be a faithful friend, always putting others first. Sister Moreau's most recent ministry was that of giving tours at the shrine of Saint John Berchmans located at the Academy of the Sacred Heart in Grand Coteau.
Sister Moreau is survived by her sister, Paula Chachere, of Opelousas, Louisiana; a brother, John Moreau of Gretna, Louisiana; her nieces Catherine Chachere and Phyllis Chachere Lowe; her nephews, Kevin A. Chachere and Robert Moreau; her great nieces, Olivia Lowe, Mary Helen Lowe and Viola Casey; her great nephew, Victor Lowe, and her sisters in the Society of the Sacred Heart. A funeral Mass for Sister Moreau was celebrated at St. Charles Borromeo Church in Grand Coteau, Louisiana, on Saturday, August 3, followed by a reception at the Sunset Community Center, on Boudreaux Street, Sunset, Louisiana.
Memorial contributions may be made to the Society of the Sacred Heart, 4120 Forest Park Avenue, St. Louis, Missouri 63108.