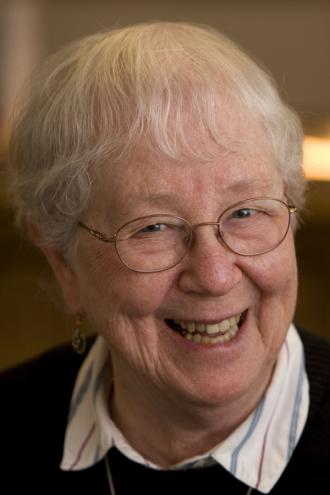 Birth: July 8, 1927
Profession: July 29, 1957
Death: March 31, 2018
Religious of the Sacred Heart, Elizabeth Shearman, died March 31, 2018, in Albany, New York.
Elizabeth (Betty) Shearman was born on July 8, 1927, in New York, New York to William Shearman and Henrietta Shearman. Elizabeth graduated from the Convent of the Sacred Heart in Washington, DC, in 1946. She graduated from the University of Miami with a B.A. in Art in 1969 and completed a number of workshops and courses in art and leadership.
Elizabeth entered the Society of the Sacred Heart in 1949 at Kenwood in Albany, New York, and made her first vows in 1952. In 1957, Elizabeth made her final profession in Rome, Italy. Her early years in the Society were devoted to teaching art and drama to students in the lower grades at Sacred Heart schools in New York, Rhode Island, and Pennyslvania. For ten years beginning in 1962, Elizabeth served as business manger at Carrollton School of the Sacred Heart in Miami, Florida. She also worked at the International School in Tokyo, Japan, teaching art. In 2003, Elizabeth answered the call from the international Society to serve at the retirement community in Tal-Virtú, Malta, work she dearly loved.
Elizabeth retired in 2017 and moved to the Teresian House Community where her health steadily declined. Despite her poor health, she continued to be active in the community. On March 31, 2018, Elizabeth died quietly and peacefully. She is surved by her brother, Bill Shearman of Willowstreet, Pennyslvania, and her
sisters in the Society of the Sacred Heart.
A Funeral Mass will be celebrated Saturday, April 7, at 1:00 p.m. at Teresian House.