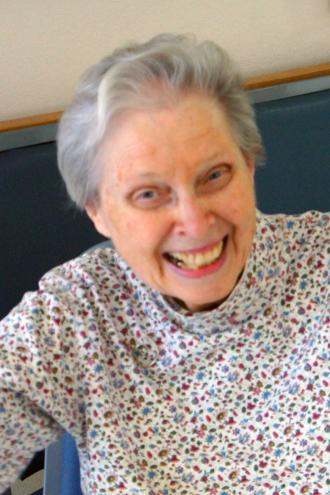 Birth: October 19, 1940
Profession: July 11, 1971
Death: March 19, 2023
Religious of the Sacred Heart, Carol Campbell, died March 19, 2023, in Atherton, California. Carol was born in Fort Dodge, Iowa, the only child of Leo D. and Katherine Mikulsky Campbell. She attended parochial school for six years and then transferred to public middle and high schools. Carol had planned to attend a state college. However, her parents, feeling that her Catholic education needed reinforcement, told her that she would go to Duchesne College of the Sacred Heart, a women's college in Omaha, Nebraska. Carol was not expecting this mandate from her parents.
Carol may not have liked her parents' decision that she go to Duchesne, but from the moment she walked in the door, she was impressed by the loving environment. Carol cherished every moment at Duchesne; and by the time she received her undergraduate degree in biology in 1962, she had fallen in love with the Society of the Sacred Heart and wanted to become a member. Her parents had not counted on this development! Little did they dream that one day they would see their only daughter leave them in this way!
In September of 1962, Carol arrived at the Sacred Heart novitiate at Kenwood in Albany and on March 8, 1963, received the religious habit. On March 8, 1965, Carol pronounced her first vows in the Society and then was assigned to Woodlands Academy, in Lake Forest, Illinois, for two years; she taught moral theology at Barat College next door. Carol moved to Duchesne Academy, Omaha, in 1967, as a biology teacher and dean of students, and from there left for probation in Rome, where she made her final profession on July 11, 1971.
After profession, Sister Campbell was a teacher at the Glen Oak School in Cleveland, Ohio, until it closed in 1974. She then went to Sacred Heart Academy, Sheridan Road, Chicago, first as a biology teacher and then as head of school until 1977, when she moved to Woodlands Academy of the Sacred Heart, Lake Forest, Illinois, again as head of school until 1983.
After a sabbatical in l983-84, Sister Campbell became a student and graduate assistant at National College, Evanston, Illinois, where she earned an M.S. in human services/addictions. She became a student intern in the area of substance abuse at Lutheran General Hospital, in Park Ridge, Illinois, for one year and received clinical pastoral education credentials. From 1987 until 1989 Sister Campbell was a chemical dependence counselor at Victory Memorial Hospital, Waukegan, Illinois. From 1989 to 1992, she worked at Interventions, a business in downtown Chicago, where she did assessments, referrals, and follow-up services to troubled employees.
In 1992, Sister Campbell returned to the Academy on Sheridan Road as head of school. A year later, and not without controversy, the decision was made to close the high school. Over the following four years, the elementary school flourished. Sister Campbell was much loved by both parents and students. In 1997, she became the administrative assistant to the president of Barat College in Lake Forest for two years before being named headmistress at Woodlands Academy in Lake Forest in 2000.
Once again, Sister Campbell won the hearts of both students and parents. However, quite suddenly in 2002, she contracted a very serious disease, herpes simplex viral encephalitis. The disease was not diagnosed early enough to avert lasting impairment, and, for a time, she suffered a total loss of the ability to speak. After a lengthy hospitalization and period of recuperation in the Chicago area, Sister Campbell was sent to the infirmary at Kenwood in Albany. When the infirmary was closed in 2004, she was transferred to the Society's Oakwood retirement center in Atherton, California, where she began speech therapy.
Sister Campbell spent eighteen years at Oakwood. She made many friends through the years and was known for her courage and determination while giving and receiving the love that had characterized her in all of her ministries.
On March 19, 2023, Carol died peacefully. Even though she had been on hospice for some time, her death was unexpected. She will be missed by her Sacred Heart sisters.
A Memorial Mass will be held on May 8, 2023, at 10:00 am in the Oakwood Chapel, 140 Valparaiso Avenue, Atherton, California. 
Memorial gifts may be made to the Society of the Sacred Heart at 4120 Forest Park Ave., St. Louis, MO 63108, or through this website.