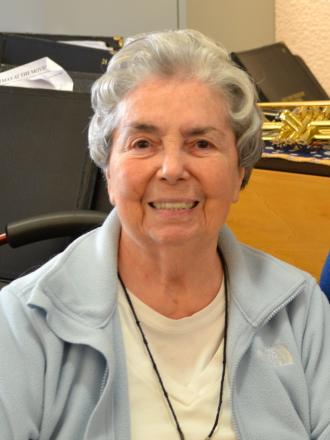 Birth: July 7, 1928
Profession: February 9, 1959
Death: December 21, 2021
Religious of the Sacred Heart, Carolyn Mouton, died December 21, 2021, in Atherton, California. She was born on July 7, 1928, in Lafayette, Louisiana, to Mildred Louise Bechet and Francis Xavier Mouton. She was preceded by two brothers, and later followed by a little sister—all of whom remained close during their lives. Lyn, as she was always called, spoke of a delightfully happy home, filled with joy and laughter. Her mother was educated by the Religious of the Sacred Heart in Grand Coteau, and her father, an attorney, was educated by the Jesuits in Grand Coteau and at Georgetown and Loyola Universities. His son, Fred, followed him into the profession of law.
Lyn completed her secondary education at Mt. Carmel School, where she was president of the student body in her senior year. It was there at Mt. Carmel that she had a life-changing experience in fourth grade that influenced her vocation. Her teacher, Sister Bonaventure, told the children that after Communion, they were to return to their pews, place their heads in their hands, and "sit in a parlor with Jesus to have a conversation with him." Lyn loved doing this, reporting that she and Jesus became fast friends! She knew then that she would belong to him in a special way. She left the school with the happy memory of her father giving the graduation address. Lyn then attended the College of the Sacred Heart in Grand Coteau, where she received the BA degree in 1948. On November 1, 1950, she entered the Society of the Sacred Heart at Kenwood in Albany. It turned out that she was the thirteenth Mouton to enter the Society! She pronounced first vows on May 14, 1953, then remained at Kenwood to obtain an MA in English from Manhattanville College in 1955. Her first assignment was at Villa Duchesne in St. Louis, where she was both English teacher and charged with the day students in the high school.
In the midst of all this, Sister Mouton made her final profession in Rome on February 9, 1959. Following profession, she returned to her beloved Grand Coteau, where she served as teacher, mistress of studies and headmistress, her happiest of ministries for the next six years. In 1965, she became headmistress of the City House in St. Louis for three years, until the school closed. During these years, her father died. In 1968, she was summoned by the superior vicar, who told her that the school in San Juan, Puerto Rico, needed an English teacher. Sister Mouton was given time to ponder this invitation, which soon turned into a request for a headmistress! After a discernment process, she left on a five-day trip by freighter for San Juan.
The morning the ship docked, she asked to have her hand stamped so that she could go ashore to alert the nuns to her arrival, only to find out that her new community, under the leadership of Mother Arsuaga, had boarded the ship at 2 a.m. While looking for Sister Mouton, they woke up most of the passengers, including the captain. When they arrived at his door, as Sister Mouton was later told, "He pulled himself up to his full 6'2" Dutch height and firmly said, 'I can assure you, Madam, that she is NOT in here with me.'" Then she added, "What an entrance into my new country!"
After two years and a successful evaluation of the school in San Juan, Sister Mouton moved to Houston for six years as head of the French Department at Duchesne Academy of the Sacred Heart, followed by a year in the Corporate Ministry Program at Saint Louis University in preparation for parish ministry. She spent two years in the "Come Lord Jesus" program in the Diocese of Lafayette, followed by six years as pastoral associate at St. Edmund's parish in Richard, Louisiana. Sister Mouton then attended the Weston School of Theology in Cambridge, Massachusetts, where she received an MA in Theology. It was during this time, in 1981, that her beloved mother died.
At this point, the provincial team asked Sister Mouton to broaden her experience by leaving her beloved South and starting a new ministry in another part of the country. She accepted the request, and from 1986 to 1988, she served as a parish director in a parish in San Diego, and from 1988 to 1994, she was the director of evangelization at St. Michael's Parish, in Poway, California. Following this, Sister Mouton spent a year in a Clinical Pastoral Education program led by Sister Tita Lapeyre. After completing the program, she began ten years as a chaplain at Scripps Mercy Hospital in San Diego, a ministry she dearly loved.
During all these years of dedicated service, Sister Mouton maintained a loving relationship with her brother, Burt, a diocesan priest, who spent most of his life in the Vatican Diplomatic Service in Rome, remaining "on loan" and incardinated in the Lafayette Diocese. The last ten years of his life he was a canon at St. Mary Major in Rome. He served in many countries, living in the nunciatures in India, Africa, Argentina, and Korea. Often he would invite Sister Mouton, and pay her way, to spend time with him in Rome and other exciting places that she would never have known without Burt. In his company, she also met popes and cardinals and every kind of dignitary at the helm of the church.
Sister Mouton's presence in California also enabled her to see Susie, her sister who was always close to her. Susie and her husband, Dick, often invited her to join them for family celebrations and visits. Here, over the years, she grew in relationship with her niece and nephews, whom she loved dearly.
In 2005, Sister Mouton went to Oakwood, the retirement center for Religious of the Sacred Heart in Atherton, California, for several surgeries. She fell in love with Oakwood and soon was given permission to retire there. She loved the contemplative life she found in her new home.
Sister Mouton spent many happy years at Oakwood cultivating many loving relationships. On the morning of December 21, 2020, Sister Mouton went peacefully to God. A Funeral Mass followed by burial will be held in Grand Coteau, Louisiana. A Memorial Mass will also be celebrated in the Oakwood chapel in Atherton. Both of these celebrations of her life will take place at a later date.