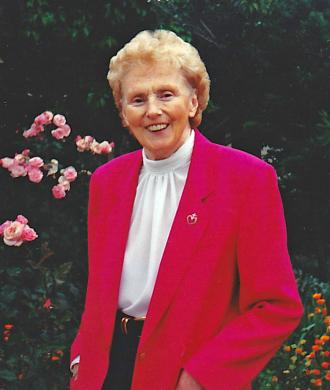 Birth: May 19, 1924
Profession: February 16, 1956
Death: April 30, 2019
Religious of the Sacred Heart, Claire Mahaney died April 30, 2019, in Atherton, California.
Claire Mahaney was born on May 19, 1924, in Rochester, New York, to Thomas Joseph Mahaney and Marie Francis Lightner Mahaney. She was the second youngest of five children and only four years old when her mother died at age thirty-seven. Her father was left with five children and a home to manage. Claire's grandmother, who was sixty-nine at the time, came to live with the family and cared for them for the next eighteen years. Claire described her father "as a strong athletic man with a warmth and tenderness about him, which enabled him to be both mother and father to his children." She remembered her childhood as a happy one, in which there was an abundance of love and Christian faith.
When Claire was five years old, she attended St. Agnes School as a boarder where she prepared for her First Communion. She remembers, even at that early age, that she belonged to Jesus. But it was not until Claire was 14, when she was a sophomore at the Sacred Heart Academy, "Prince Street," that she felt called by Jesus. Even though she felt this calling, there was an interior struggle between becoming a religious and marrying and raising a family.
Claire attended St. Michael's College, University of Toronto, where she graduated in 1945 with a bachelor's degree in Philosophy, Theology, and English Literature. She made the decision to enter the Society of the Sacred Heart after graduation, but, at the request of her father, stayed home for one year. She later entered at Kenwood, in Albany, New York, on September 7, 1946. Her father visited her every month while she was in the novitiate and each time invited her to come home. When he came to realize how happy she was, the invitations ceased.
Claire made her first vows in 1949 and went on to graduate studies at Manhattanville College, where she earned a master's degree in American History and English Literature in 1950. She made her final profession in 1956 at Kenwood. Sister Mahaney taught for nearly 35 years on the secondary level in Sacred Heart schools, at Elmhurst in Rhode Island, Stone Ridge Country Day School in Bethesda, Maryland, Newton Country Day School in Newton, Massachusetts, Carrollton School in Miami, Florida. She was also director of campus ministry and counselor at Carrollton, and served the Miami archdiocese as a marriage and family therapist. During this time, she earned a second master's degree in Theology and Scripture from Providence College in 1967, and another in counseling from Boston University in 1971.
In 1984, Claire semi-retired and moved to Oakwood, a retirement community for the Sisters of the Sacred Heart in Atherton, California, where she began preparing for the California marriage and family therapist licensing exam. She obtained her license in 1986 and for the next 13 years was a member of the therapy staff at the Pastoral Service Center at St. Joseph's College Seminary in the Diocese of San Diego. She remained at Oakwood for the duration of her life.
Claire's active ministerial life was often complicated by physical suffering caused by a complex neuro-muscular degenerative disease. Her love of writing poetry, which began in high school, was a comfort to her during these times. She once said, "I don't decide to write a poem; it just happens." During the course of her life, Claire composed over 250 poems, many published in periodicals and in bound volumes. Her poems kept her spirit alive in later years as she became more and more infirm, and they were a source of inspiration for others who read them. She requested one of her poems for her funeral Mass:
Someday
Christ,
someday I will meet you,
but, oh! my heart
has held you
so many times,
my thoughts have fashioned for you
so many disguises—
gentle and kind,
just and driven,
pained and longing,
thirsting to establish
your Father's kingdom.
Christ,
someday you will hold me,
but, oh! Your arms
have held me
so many times;
your words have wrapped around
my dark
'til I believed;
your being fired mine,
'til I let go
of all I cherished here,
and ran away with you,
not in childhood fantasy,
but in reality
of covenanted love.
After a long life, Claire Mahaney passed into the loving arms of God on April 30 with four of her sisters of the Sacred Heart by her side.
Sister Mahaney is survived by a number of family members and friends and her sisters in the Society of the Sacred Heart. Funeral services will be held on Saturday, May 25, at Oakwood. The burial of her cremains is at the Kenwood cemetery in Albany on Saturday, June 1.