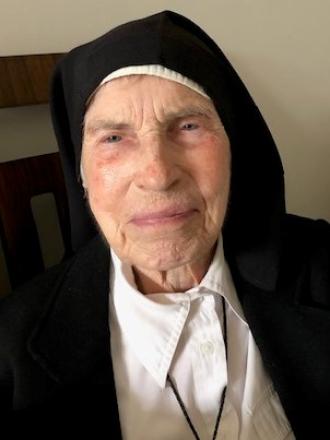 Birth: October 22, 1932
Profession: July 21, 1962
Death: December 20, 2020
Religious of the Sacred Heart, Clare Peckham, died December 20, 2020, in Québec, Canada. Sister Peckham was born on October 22, 1932, in Montreal, Québec to Sidney Brittain Peckham and Elizabeth Caroline Peckham. In 1954, following her sister Maureen, she entered the Society of the Sacred Heart at Kenwood in Albany, New York, and pronounced her first vows there in 1957. She made her profession in Rome on July 21, 1962.
Sister Peckham earned a B.A. in English in 1953 from Marianopolis College in Westmount, Québec, and an M.A. in Philosophy from Manhattanville College in 1960.  She studied at the Catechetical Institute at the Convent of the Sacred Heart in Montreal for one year beginning in 1962. Sister Peckham was enrolled at the University of Montreal taking summer courses at the Institut Supérieur de Sciences Religieuses. In 1974, she earned an M.R.Ed. from Loyola Institute of Pastoral Studies in Chicago, and in 1978 she earned an M.Div. from the Toronto School of Theology, University of St. Michael's College.
Sister Peckham taught at the Convent of the Sacred Heart in Halifax (1958-1960) and at the Sault-au-Récollet in Montréal, Québec. She also taught at the Convent of the Sacred Heart in Vancouver, British Columbia. Beginning in 1970, she was a member of the staff serving in adult education at the Catholic Information Center in Montréal, Québec. She went on to serve in campus ministry at Assumption University of Windsor in Ontario. Before beginning graduate studies, she had worked as a religion consultant for the Separate School Board in Barrie, Ontario. Beginning in 1978 and for the next seven years, Sister Peckham was the parish assistant at St. Gregory's Parish in Toronto, Ontario. In 1986, she worked as a chaplain (CPE) at Riverdale Hospital and Princess Margaret Hospital both located in Toronto. She also worked in volunteer service for the Catholic Information Centre in Montréal.
Sister Peckham retired to Granby, Québec, in 2019 and later moved to the Wales Home in Cleveland, Québec. Last month, Sister Peckham experienced some weakness and was hospitalized. She returned to the Wales Home and improved for a short time only to diminish significantly in early December. She died peacefully on December 20, 2020.
A funeral mass will be celebrated for Sister Peckham at a later date.