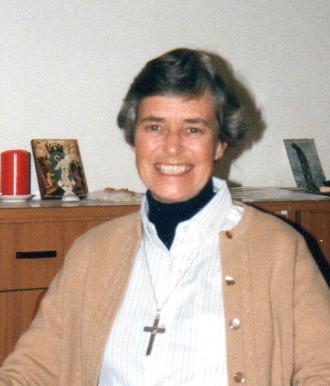 Birth: July 11, 1923
Profession: July 31, 1953
Death: May 25, 2022
Religious of the Sacred Heart, Dorothy Murray died May 25, 2022, in Albany, New York.
Dorothy Murray was born on July 11, 1923, in Brooklyn, New York, to Dr. Foster Murray and Beth Murray. She was ninety-eight years old and a member of the Society of the Sacred Heart for seventy-seven years. Dorothy attended Manhattanville College of the Sacred Heart, earning a BA in History in 1945. During her senior year at Manhattanville, after many years of thought and reflection, she requested to enter the Society of the Sacred Heart. She entered in September of 1945, at Kenwood, and pronounced her first vows there in 1948. Sister Murray taught at the Academy of the Sacred Heart, Eden Hall, in Torresdale, Pennsylvania, and at Stone Ridge School of the Sacred Heart in Bethesda, Maryland. In 1953, she left for probation in Rome and professed her final vows on July 31, 1953.
Following her profession, Sister Murray taught at the Convent of the Sacred Heart, Overbrook, Philadelphia, on two separate occasions, the first in 1953 for five years and then as headmistress of the school until 1966. She left Overbrook in 1966 for the Convent of the Sacred Heart, Elmhurst in Portsmouth, Rhode Island, where she was superior for three years. Sister Murray earned an MA in History from Manhattanville in 1956. In between the years at Overbrook, she taught at Newton Country Day School where she served as mistress of studies from 1958 to 1963. She returned to Stone Ridge in 1969 and served as superior until 1971 when she went back to Elmhurst serving as headmistress for one year. During the summers between 1969 and 1971, Sister Murray organized and directed summer renewal programs at the house in Portsmouth, attended by RSCJ, religious from other congregations, and some lay people.
Sister Murray participated in the Apostolic Religious Community (ARC) program in Rome from 1972 to 1973, and then went on to studies at the Weston School of Theology earning an MA in Theology with a focus on spiritual direction in 1974. She then went to Catholic University in Washington, D.C., to serve as a member of the Priestly Formation Team in the Theological College until 1980, after which she returned to Rome and served on the probation team of the Society for seven years. Sister Murray also served as mistress of novices for the Canadian Province (1987-1988). Beginning in 1988, she was part of the U.S. Province staff working in ongoing formation. In 1994, Sister Murray began working in parish ministry as a spiritual director at Saint Stephen of Hungary Parish in New York City where she remained for the next fifteen years. She also served as a spiritual director at the Kenwood Infirmary where she ministered to her religious sisters.
In 2009, after many years of dedicated ministry, Sister Murray retired to the Abba House Community in Albany, New York, and then to the Avila Community in 2011. When her health began to deteriorate and she needed more care, she moved to the Teresian House Community in 2018. During the past month, Sister Murray's health declined significantly and on May 25, 2022, on the Feast of St. Madeleine Sophie Barat, she went peacefully to God.
A Funeral Mass will be held for Sister Murray on June 15 at 12:00 noon at St Francis of Assisi Parish 93 Fourth Avenue (At Franklin Street) Albany, New York 12202
Memorial contributions may be made to the Society of the Sacred Heart, 4120 Forest Park Avenue, St. Louis, Missouri 63108.