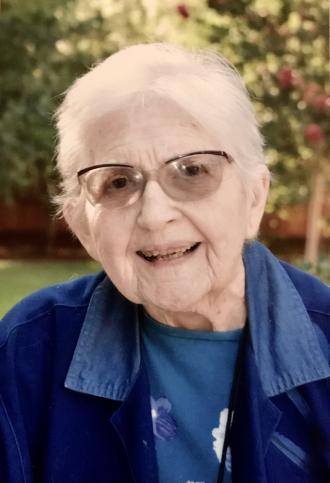 Birth: October 17, 1924
Profession: July 29, 1954
Death: August 3, 2021
Religious of the Sacred Heart, Eileen Bearss, RSCJ, died August 3, 2021, in Atherton, California. She was ninety-six years old and a member of the Society of the Sacred Heart for seventy-five years. Eileen was born on October 17, 1924, in Portland, Oregon, to Harry James Bearss and Mary Ellen McKenna Bearss. The second of four children, Eileen inherited her great love of learning from her parents who met as classroom teachers in a country school in the state of Washington. In 1940, her father left the classroom to begin working as an auditor for the Union Pacific Railroad. When the railroad offices moved from Portland, Oregon, to Omaha, Nebraska, Eileen had to leave Providence Academy in Portland and enroll at Cathedral High School in Omaha. Duchesne College, just two blocks away, would be her next destination, and there she had her first encounter with the Society of the Sacred Heart.
Each summer during college, Eileen worked on aircraft carriers at the Kaiser Shipyard in Richmond, California, to help pay for her college tuition. The shipyard was a different atmosphere from what she experienced at Duchesne College. During these years, she began to discern a vocation to religious life. Eileen often recounted that it was in the chapel at Duchesne College, in the presence of Religious of the Sacred Heart, that she knew that she was called to the Society of the Sacred Heart. "I wanted to be one with the Heart of Jesus, and I saw women who loved God, one another, and each of us. It was in relationship that I was called." After graduating from Duchesne College with a BA in history, Eileen entered the Society of the Sacred Heart at Kenwood Convent in Albany, New York, on June 28, 1946. Her younger sister, Rosemary, followed her into the Society in 1951.
Eileen made her first vows on January 6, 1949, and her final profession in Rome on July 29, 1954. Her return from her final profession was delayed several months as she contracted hepatitis on the long passage back on the ocean liner, Andrea Doria, and spent several months in a New York hospital. Her early years in the Society were devoted to teaching history and mathematics at Duchesne Academy of the Sacred Heart in Omaha (1949-1954), then at Sacred Heart Schools in Chicago (1954-1961). In 1957, she earned a Master's in History at San Francisco College for Women (Lone Mountain).
Sister Bearss served as dean of students at Barat College for one year and then taught at Woodlands Academy of the Sacred Heart in Lake Forest, Illinois. She returned to Chicago in 1963 as treasurer at Sacred Heart Schools for the next five years. She continued in the role of treasurer for thirteen years at Duchesne Academy of the Sacred Heart in Omaha. From 1981 to 1986, Sister Bearss served as the administrator of the community of retired sisters at Kenwood in Albany. Following this work, she went on to a sabbatical program at the Jesuit School of Theology where she shared classes with her niece Bridget, who was in her second year of novitiate in the Society. Eileen's sabbatical program left her discerning two invitations – one to move to Rome to assist the treasurer-general of the International Society of the Sacred Heart and the other, a call to serve at the newly opened Spiritual Ministry Center in San Diego. She felt an inner desire to accompany the spiritual journey of others and was drawn to the work of the Spiritual Ministry Center.
From 1987 until 2011, Sister Bearss lived in San Diego. Initially, she assisted in developing financial processes, procedures, and accountability for the Spiritual Ministry Center and then embarked on a journey that she described as "coming home to the heart of my life" as she began training as a spiritual director both at the Spiritual Ministry Center and later at her community on Cape May Avenue in Ocean Beach. She delighted in accompanying others in their unfolding quest to "discover and reveal God's love" and was honored to share the spiritual search with people from different walks of life. Her starting point was always the depth of God's love, although she was always ready with the most contemporary spiritual book and never lost her passion for historical truth-telling.
Throughout her religious life, Sister Bearss shared her experience of the Society of the Sacred Heart with her younger sister, Rosemary. While they never lived in the same city or the same house until they both became residents of the Oakwood Community, they shared the depth of their lives. Eileen and Rosemary were ever faithful to their family, especially their parents and the children, grandchildren, and great-grandchildren of their brother Jim and his wife, Eileen.
In her last year in San Diego, Sister Bearss lived in the novitiate community, delighting in learning new ways of looking at religious life and the mission of the Society of the Sacred Heart. She found the discussions engaging, the sharing life-giving, and the formation of a new community an experience of hope. She recognized, though, that her energy was waning and made the decision to move to the Oakwood Community in 2012 while she could still contribute to the life of the community and be present to her sisters before her own health declined.
On August 3, 2021, after suffering a stroke, Sister Bearss went quietly to God with her niece Bridget and her sisters in the Society of the Sacred Heart by her side. We thank Eileen for her service as a woman of the heart, a messenger of hope, a brave and valiant daughter of Madeleine Sophie, and a Religious of the Sacred Heart who built bridges of relationship and made impossible equations into solutions balanced by love. Sister Bearss is survived by her sister Rosemary Bearss, RSCJ, her niece, Bridget Bearss, RSCJ, and the following family members, Judith (Tom) Anderson (Pittsburgh, PA), Mike (Karen) Bearss (Charlotte, NC), Pam (Bill) Montgomery (Ludington, MI), Pat (Candice) Bearss (Pawnee, IL), eleven grand nieces and nephews and twenty great-nieces and nephews.
The funeral mass for Sister Bearss will take place on Thursday, September 9, 2021, at 10:00 a.m. in the Oakwood Chapel in Atherton, California. The mass will be live-streamed.