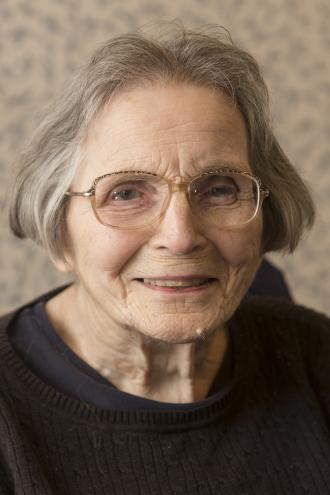 Birth: March 14, 1923
Profession: February 10, 1954
Death: December 5, 2018
Religious of the Sacred Heart, Esther Ann Whalen died December 5, 2018, in Albany, New York.
Esther Ann Whalen was born on March 14, 1923, in New York City to Grover A. Whalen and Anna Kelly Whalen. Her father, a former Police Commissioner of New York (1928-1930), also served as the city's official greeter for over forty years and was named the head of the New York World's Fair in 1939.
An alumna of Eden Hall, Manhattanville College of the Sacred Heart and Villanova University, Esther Ann entered the Society of the Sacred Heart in 1945 at Kenwood in Albany, New York. She made her first vows at Kenwood in 1948 and her final profesion in Rome, Italy, in 1954.
Sister Whalen taught for many years at Stone Ridge Country Day School of the Sacred Heart in Washington, D.C., serving as surveillante of the middle school on two separate occasions. She also served as headmistress at Eden Hall, a Sacred Heart boarding school near Philadelphia which closed in 1969. Sister Whalen and most of Eden Hall's rising senior boarders moved together to Newton Country Day School of the Sacred Heart in Newton, Massachusetts, where Esther Ann became headmistress and the students finished their final year.
In 1970, Esther Ann left Newton to join sisters from three different religious orders and one lay woman in an experiment in intercommunity living. The community, located at Mount St. Rita in Cumberland, Rhode Island, was named "Mont Joie." The sisters lived a simple life, with a minimal budget of fifteen dollars a week, sharing responsibility for cleaning, cooking, shopping and even making their own clothes. Sister Whalen was coached on how to use a sewing machine by another sister. This type of community living became possible after the reforms of religious life of the Second Vatican Council (1962-1965).
Sister Whalen lived at Mont Joie for a number of years and was secretary to two provincials of the Sisters of Mercy, Providence Province. Both provincials praised Sister Whalen's work, citing her diligence and sensitivity. In 1980, while working for the Sisters of Mercy, she was offered the position of director of public information at Salve Regina University in Newport, Rhode Island. Thus began a thirty year relationship with the University where she also served as director of publications and special events.
It was at Salve Regina that Sister Whalen started an educational program for the retired community called Circle of Scholars. She was also known as "Salve's sailing sister," for starting a sailing program, which received national and international attention winning championships. At age 85, Sister Whalen was still serving as the sailing team manager and even had a sailboat named after her, a boat she credited as the fastest in the fleet. Her love of sailing had started at a young age, when she asked her father for a sailboat. He bought her a 27-foot sloop and she spent much of her childhood sailing on Long Island Sound. The love of the sport she carried throughout her life.
As Esther Ann entered her nineties, she felt it was time to retire officially. In 2012 she moved to the Abba House Community for retired religious in Albany, and then to Teresian House, where she was lovingly cared for by her sisters and the staff. On December 5, 2018, she went quietly and peacefully to God.
Sister Esther is predeceased by her parents, her sister Mary Whalen McLaughlin, and her brother Grover Whalen, Jr. She is survived by her nephews, Andy Saul of Media, Penn., Steven Saul and his wife Jane of Littleton, Colorado, and Mark McLaughlin of Bradenton, Florida, and several grandnieces.
Funeral services will be held for Sister Whalen on Tuesday, December 11, at 10:00 a.m. in the Teresian House chapel, followed by sharing of memories and burial.