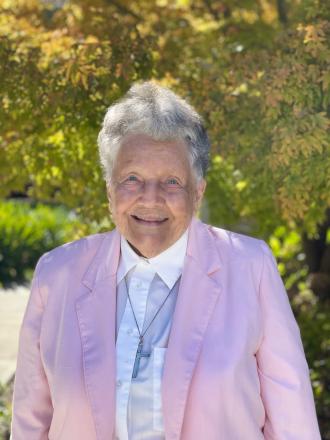 Birth: May 31, 1931
Profession: February 8, 1960
Death: January 19, 2023
Religious of the Sacred Heart, Helen Rosenthal died January 19, 2023, in Atherton, California. Helen was born in St. Louis, Missouri, on May 31, 1931, to George Daniel Rosenthal and Elma McLaughlin Rosenthal. Helen's grandfather, as the head of General Electric, was responsible for all the lighting for the 1904 World's Fair in St. Louis. Helen's mother grew up in Miami, Oklahoma. The family moved to Joplin, Missouri, where Helen's mother attended a convent high school. Helen remembered a happy and loving home growing up, and "so it is easy for me to believe that God loves each person unconditionally." As Helen was growing up her family moved to Westminster Place in St. Louis, a neighborhood with large homes and large families. Helen was one of over fifty children living on the block. In many ways, these years were idyllic. It was during seventh and eighth grade that Helen's mother enrolled her and her sister at St. Roch's, the local parish school. Helen loved her years at the school. As it was within walking distance of home, she joined a large group of children walking to and from school every day. Helen was in the top third of her class when she graduated from St. Roch's. As a result, different high schools invited her to take the scholarship exam. Helen chose to take the exam at Visitation Academy and two Sacred Heart schools, City House and the Academy of the Sacred Heart in St. Charles. She was praying she would be accepted at the Academy in St. Charles, as she had fallen in love with the school when she visited; and the fact that her grandmother had graduated from St. Charles made it even more desirable. She wore her grandmother's graduation cross when she took the exam. Helen won a partial scholarship to the Academy, her father taking care of the rest of the cost. She was a boarder during the week, coming home on the weekends. Helen felt the first stirrings of a religious vocation during her first retreat at the Academy. The history of the Society fascinated her, and she enjoyed her time at the boarding school and the discipline she found there, balanced with the happy home she returned to on the weekends.
As the school years flew by, and Helen began her senior year, one of her Jesuit cousins asked her what her mother would think of her entering. Helen had mentioned the desire to her mother after her first retreat at the Academy many years before and her mother cried for a week. Nothing more was said, but Helen knew now that she was graduating, she needed to talk with her mother about her vocation. Intending to speak with Mother Madeleine Desloge about entering, Helen found out that Mother Desloge had left on an unexpected trip to Chicago. Helen took this as a sign and proceeded on to college at Maryville College. She thoroughly enjoyed her college years, had many friends, and dated quite a bit. Helen was the "social chairman" of her class and loved giving parties. She gave out keys to her home to whoever needed a place to stay on the weekend. Her parents did not know whom they would find on Sunday mornings. 
As Helen's years at Maryville progressed, Mother Mary Gray McNally, the dean of women, asked Helen about her vocation. Helen knew she needed to speak with someone. The son of a family friend, whom she was dating at the time, drove her to the retreat at Maryville. After her retreat, Helen consulted with a Jesuit priest who believed she did indeed have vocation. Helen then went to speak with Reverend Mother McCabe, the vicar, and told her that she wanted to enter the Society on the Feast of the Sacred Heart. The date being only three months away, Helen needed to tell her parents who she knew would not take it well. Despite her mother's tears and the offer of going to Europe from her father, Helen decided to go to Kenwood in June, and if the Society did not keep her, she would go back to college in September. After a Lenten retreat at Maryville, Helen went to Kansas City to return the class ring of a boy she was dating.
She entered the Society of the Sacred Heart on June 15, 1950, at Kenwood before she graduated from Maryville. She later would finish her undergraduate degree in English at Maryville in 1957. She made her first vows in 1952. Sister Rosenthal's early years in the Society focused on teaching. She taught at Villa Duchesne in St. Louis (1953), the Rosary in New Orleans (1954), and Clifton in Cincinnati (1954-1959), before leaving for her final profession, which she made on February 8, 1960, in Rome. She returned from Rome and moved to Viña de Mar, Chile, where she taught at the free school in Concepción for twelve years while studying for two degrees at the Catholic University in Chile. She earned graduate degrees in Education (1965), and Guidance and Counseling (1971). Sister Rosenthal served as head of the elementary schools and in formation work during the time of an earthquake that destroyed the school and convent in Viña del Mar. She was superior in one of the poorest areas, Coquimbo and Talca, and served these regions as "a traveling spiritual director."
While serving in Chile, Sister Rosenthal suffered severe hearing loss from either the Hong Kong flu or possibly from the medication she was given to combat it. This left her permanently deaf. As she was so engaged in her ministry, which involved working with many groups, she found her deafness frustrating when she could not hear, but "on the whole, I see my deafness as a gift from the Lord and I can always listen to Him." She accepted her hearing loss with its limitations and continued to serve where she was needed. She was able to experience the graces that came with this loss, such as a rich inner life, being a better listener, deep one-on-one sharing, and the quiet presence of others without the need for words.  As she adapted to this loss she learned to hear in a different way.
Sister Rosenthal returned to the U.S. in 1973 and began studies for a certificate at the Institute of Religious Formation at Saint Louis University. From 1975 until 1979, she returned to Chile and served on the formation and mission team for the province and as a retreat director and teacher in Peru. In 1980, Sister Rosenthal returned to Saint Louis University and earned an M.A. in Religious Studies in 1981, and a Ph.D. in Historical Theology in 1985.
In 1986, Sister Rosenthal founded the Spirituality Center, which included a training program for spiritual directors, at St. Thomas University in Miami, Florida. She also taught graduate and undergraduate courses at the university and at the Institute for Pastoral Ministries and Religious Studies. She was a member of the faculty at St. Thomas from 1986 until 2001 and served as an adjunct professor at Barry University in Miami. She continued to serve St. Thomas as professor emerita and coordinator of Spirituality Studies.
Before retiring, Sister Rosenthal created an international online program beginning with a course in New Testament and the Early Fathers in 2002, engaging students from all over the world. She created more courses; and while managing online teaching was daunting at times, she found it to be exciting and fulfilling. She even found time to create a daily reflection blog that engaged people in their own spirituality.
Sister Rosenthal eventually retired to the Oakwood Retirement Center in Atherton and continued working on her blog and in spiritual direction. Up until her last weeks, she was leading a Bible study group for women in Los Altos. Sister Rosenthal was known by her sisters in the Society of the Sacred Heart as someone who loved and engaged life to its fullest. On January 19, 2022, Sister Rosenthal quietly went to God surrounded by her sisters and some of the staff who cared for her at Oakwood.  She is survived by her sister, Betty Troilo, and her brother, John Rosenthal.
Sister Rosenthal's funeral and burial will be on Saturday, February 4, 2023, at Oakwood with Mass at 10:00 a.m. The presider will be Bob Glynn S.J.