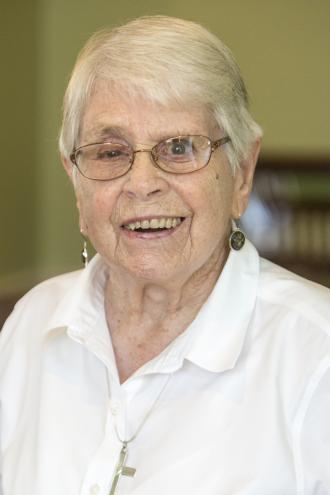 Birth: May 1, 1922
Profession: March 10, 1947
Death: December 23, 2018
Religious of the Sacred Heart, Jean Bautz died December 23, 2018, in Albany, New York.
Jean Bautz was born in Flushing, New York, on May 1, 1922, to Louis Bautz and Jane Riley Bautz. She had an older sister, Helen, to whom she was always very close. Although their father died when Jean was a young child, she always spoke of their wonderful childhood with a mother who devoted herself whole-heartedly to their happiness.
After her graduation in 1944 from Manhattanville College of the Sacred Heart in New York, Jean entered the Society of the Sacred Heart at Kenwood in Albany, New York, and pronounced her first vows in March 1947. She made her final profession in Rome, Italy, on July 30, 1952.
In the course of her long life, Sister Bautz exercised her educational and administrative gifts at Sacred Heart schools at Greenwich and Noroton, Connecticut; at Lawrence Avenue and Bloomfield Hills in Detroit; at Kenwood in Albany; at Manhattanville College in Purchase, New York; and at Stuart Country Day School in Princeton, New Jersey. She was by turns teacher, headmistress, community superior, director of services, and career counselor. In 1986, after some preparatory study in her new field of pastoral services, Sister Bautz was named director of pastoral services at Kenwood, a path she would follow in some form or other until her death.
In response to a Society questionnaire she filled out in 1993, she wrote she would like "to continue assisting the sick and elderly as long as possible." On the same questionnaire Sister Bautz wrote she "would like to make a renewal in 1994 (50 years since my Entrance) as preparation for the final, and I hope, very fruitful stage of my life."
With her strong and determined personality, Sister Bautz was often called "feisty," and for certain she was never one to back down from an argument. But she was ready to acknowledge a mistake as soon as she discovered it. She had a generous and ready laugh and a resonant, "cultured" accent, and was often called on to read on significant occasions. Several years ago, as some of the religious were engaged in talking about developments at a recent meeting of the international Society in Rome, she became intensely aware of and shared with them the fact that "it's all about love." And in her interactions with her neighbors and friends both at Avila and at Teresian House, it was evident that she embraced that message. Sister Bautz was a beloved, active, and involved member of the Lodge community at Avila until just weeks before her death on December 23, which came gently within 10 days of her going to Teresian House for rehabilitation following a fall.
Sister Bautz is survived by her sister, Helen Bautz Strachan of Lennox, Massachusetts, her many friends at Avila and at Teresian House, and her religious sisters by whom she was deeply loved and admired.
Funeral services will be held for Sister Bautz on Friday, January 4, 2019, at 11 a.m. in the Teresian House chapel, followed by sharing of memories and burial.