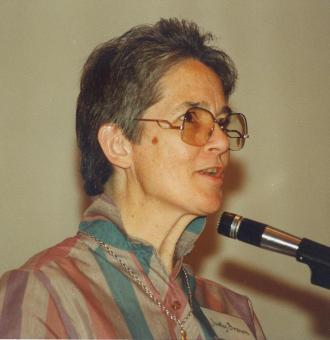 Birth: November 6, 1929
Profession: February 8, 1960
Death: May 24, 2018
Religious of the Sacred Heart, Judith Brown, died May 24, 2018, in Albany, New York.
Judith Ann Brown was born on November 6, 1929, in Bronxville, New York, the only daughter of Lieutenant Colonel Kilburn Roby Brown, USA, and Kathryn Keirnan Brown. Both her brothers died young, the first at one year of age, and the other during World War II. Following graduation from the Manhattanville College of the Sacred Heart in 1951, Judy entered the Society of the Sacred Heart at Kenwood in Albany, New York. She made her first vows in 1954 and her final profession in Rome, Italy, in 1960. Judy continued to graduate studies at Manhattanville College earning an M.A. in English in 1959. She also completed a program for teachers of Latin at Georgetown University in 1964, and a practicum in elementary supervision at Harvard University in 1966. Judy continued graduate studies at Fordham University earning an M.A. in Religious Studies in 1973. She completed the MSA program at Notre Dame University in 1982, followed by courses in pastoral care and counseling at the Weston School of Theology.
Sister Brown's early life in the Society focused on teaching and administration at Sacred Heart schools in New York, Connecticut and Michigan. After a number of years teaching and heading the religion department at Greenwich and later 91st Street, and serving as head of lower and middle schools, Judy became the headmistress at the Sacred Heart School of Halifax in 1985. She held this position for six years, after which she went on to Clincial Pastoral Education (CPE) in 1992. In 1994, Judy joined the pastoral care team at the Society's retirement community at Kenwood. She continued in this work until 1999, and then became the administrator and chaplain of the Barat Residence, a retirement community for the Religious of the Sacred Heart in Halifax, Canada. Judy was considred to be a wonderful Head at Barat, where her generosity and kind spirit were deeply felt by all who knew her.
In 2013, Judy joined the Teresian House retirement community. Her health had been declining steadily over the past year. Her condition worsened over the last several days, and she died peacefully the morning of May 24. She is survived by her cousin, and dear friend, Joan Craig Hadden, and her sisters in the Society of the Sacred Heart.
A Funeral Mass will be celebrated on Thursday, May 31, at 11:00 a.m., in the Teresian House chapel.
Memorial contributions may be made to the Society of the Sacred Heart, United States-Canada Province.