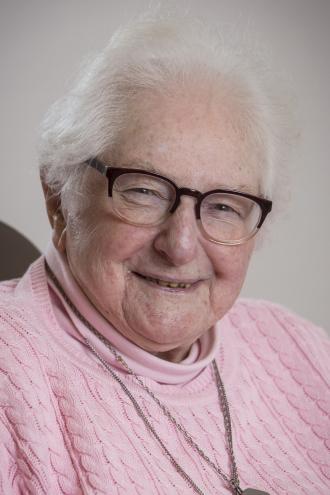 Birth: October 10, 1918
Profession:  July 30, 1956
Death: May 10, 2019
Religious of the Sacred Heart, Katherine "Cassie" Cassidy died May 10, 2019, in Atherton, California.
Katherine Cassidy, known all of her life as "Cassie," was born in San Francisco, California, to William H. Cassidy and Lillie Bergstresser Cassidy. She was one of five children and one of the youngest. She was especially close to her brother Dick, who at two years old stretched out his arms to his new baby sister and pronounced, "That is my baby." They were inseparable until high school and remained dear friends.
Cassie's family life was grounded in love, faith, and service to others. Her mother came from an evangelical tradition, but she took her promise to raise her children Catholic very seriously. Her father was Catholic and had come from Ireland in his teens. When he wanted the family to say the rosary, Cassie's mother knelt and prayed with the children. She went to Mass with them every Sunday and taught Cassie her catechism the year she could not attend school because of polio. Her mother was an example to Cassie of a faith grounded in love, gentleness, and selflessness. Her father's faith was more of the do and don't variety. One of the values that both her mother and father adhered to was that there was to be no gossip in the home. If someone was in need, they were to be helped. It was not unusual for her father to bring someone home to stay until a place could be found.
Cassie had a very early experience of Jesus when she was four years old. She and her mother had a regular nightly ritual in which she believed her mother prepared her for the examen of conscience by reviewing her day; it helped her go to confession unafraid. These practices led to her deep experience of Jesus, and she believed she was called at that time. When Cassie was nine, she accompanied her mother to her own father's funeral in Pennsylvania, where Cassie developed a piercing headache, later waking up in a hospital diagnosed with polio. The doctors gave little hope to Cassie's parents, believing she would not survive the night. Her mother knelt by her bed and prayed, begging God for her life. The following morning there was some improvement, but Cassie was completely paralyzed, and it would be a year before she could walk with crutches and a primitive brace. Two years later, Cassie's father found a doctor in North Carolina who stabilized her foot thereby greatly improving her walking. Her family was most loving during this time, her mother tirelessly massaging her legs and doing whatever else would help her.
The family moved back to the Presidio [San Francisco] for four years when Cassie was twelve. After elementary school, Cassie wanted to attend St. Bridget's High School, but was so painfully shy that her father felt it best that she attend Galileo High School, the public school, in order to be with all kinds of people. At the end of her junior year, her father's military assignment took the family to Randolph Field in Texas, where he died of a heart attack. Cassie and her mother moved back to San Francisco.
Cassie enrolled at San Francisco College for Women in 1936, where she spent four happy years as a day student earning part of her tuition working in the library. During this time she felt the first stirrings of a religious vocation but also felt drawn to marriage and children. She also reported, "I didn't think the likes of me could have a vocation." After graduation, she enrolled at the School of Librarianship at the University of California in Berkeley. In 1941, Cassie began working at the public library in Visalia, California. Shortly after the Japanese attack on Pearl Harbor, she was asked by a friend to go with her to Hawaii to be an army librarian. After three years in Hawaii, and one year in Japan as librarian at the headquarters library in Yokohama, Cassie could not deny the call she felt to religious life any longer, and left for San Francisco. A year later in 1948, Cassie entered the Society of the Sacred Heart at Kenwood in Albany, New York.
Cassie pronounced her first vows on March 5, 1951, at Kenwood, and returned to the San Francisco College for Women as assistant librarian. At the same time, she began working on a master's degree in English Literature. After she made her final profession in Rome in 1956, Cassie was named college librarian at San Francisco College for Women. 16 years later, as Cassie battled continuous debilitating exhaustion, the College sent an assistant librarian. In 1971, she suffered a pulmonary embolism during an operation on her knee. She never regained her former strength.
After Cassie recovered, needing less strenuous work, she was sent to St. Joseph's School on the Menlo campus; it was Cassie's first and only experience in a Sacred Heart elementary school, and she loved it! The library was being converted into a learning center. She asked to retire after five years when she could no longer work a whole day because of being in much pain. At this time, her mother was 93 years old, and she wanted to spend more time with her.
In August 1977, Cassie joined a group of religious from the Menlo area and lived on Second Avenue in San Francisco. Her mother died a few months later in December. Since Cassie had been asked by people on a number of occasions to accompany them on their spiritual journey, she began a four-summer program for a Master's in Applied Spirituality at the University of San Francisco. In 1984, with the fatigue progressing, Cassie was sent to a post-polio syndrome specialist, where she learned that she was experiencing something that occurs twenty to forty years after polio. At this point, she was breaking bones, so her community advised her to move to Oakwood, the retirement center for Religious of the Sacred Heart in Atherton, California. She lived in an apartment in Westwood, a community within Oakwood, and then in 1999, Cassie joined the Oakwood community.
Over the next 13 years at Oakwood, Cassie held the post of community librarian, and she had a devoted ministry of researching and showing feature films to the community on Saturday afternoons. She was often seen driving her electric wheel chair wherever the action was!
After a long life of almost 101 years, Cassie died peacefully in the early morning hours of May 10, 2019, with two of her Sacred Heart sisters at her side. A funeral mass will be held on Saturday, June 1, at 10 a.m. in the Oakwood chapel, followed by burial in the Oakwood cemetery.