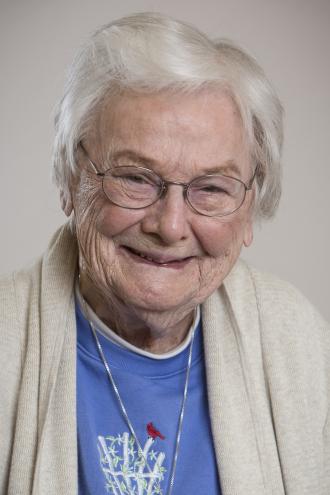 Birth: February 19, 1923
Profession: July 29, 1954
Death: February 4, 2023
Religious of the Sacred Heart, Mary Lillian Conaghan, died February 4, 2023, in Atherton, California.
Mary Lillian Conaghan was born on February 19, 1923, in Memphis, Tennessee, to Patrick Richard Conaghan and Mary Gertrude Cunningham Conaghan. Mary Lillian was the oldest of five children. Her first love, communicated to her by her mother, was the Sacred Heart of Jesus. Her mother continually invoked the Heart of Jesus whenever the need presented itself. Her father worked on the Southern Pacific Railroad and traveled three weeks out of the month. Mary Lillian, known as "Lil" attended elementary school at Sacred Heart School run by the Sisters of Charity of Nazareth, a congregation to which her great aunt belonged. She had wonderful memories of her time there, being involved in sports and assisting her mother and the sisters with helping the needy. Lil attended St. Agnes Academy, run by the Kentucky Dominican sisters. She was a third-generation member to attend the school, did well academically, and had the lead part in her senior year drama. She graduated in 1941 and proceeded to Maryville College in St. Louis run by the Religious of the Sacred Heart. She was warmly welcomed with a big hug from Mother Odeide Mouton, the college president, which touched Lil deeply.
Lil knew she had a vocation to religious life in her first year at Maryville. She confided her desire to Mother Mouton and the superior. In her sophomore year, Lil's father was transferred to Chicago. After she graduated in 1945 with a BA in chemistry, Lil worked for a year in Chicago at a chemistry lab before entering the Society of the Sacred Heart at Kenwood in Albany in 1946. She loved the novitiate and her mistress of novices, Mother Marie Louise Schroen. Lil professed her first vows in 1949, after which she taught chemistry for the next three years, first at Villa Duchesne in St. Louis for one year, followed by Academy of the Sacred Heart, Grand Coteau, Academy of the Sacred Heart in St. Charles, and Academy of the Sacred Heart in New Orleans, where she was also charged with the middle school. She left for probation in January of 1954 and made her final profession on July 29, 1954. Her parents were waiting on the pier when Sister Conaghan returned to New York.
After her final profession, Sister Conaghan returned to Maryville where she was involved for a short time with the Sophie Barat School on the college property. In 1955, she was sent to the Academy of the Sacred Heart (the Rosary) in New Orleans as assistant superior for two years. Sister Conaghan returned to Maryville in 1957 and once again served as assistant superior. She was also involved in the plans to relocate the college from the city to the suburbs. After Maryville, Sister Conaghan was asked to go to Duchesne Academy in Houston for a few weeks in 1962. She ended up staying until 1973 and "loved every minute of it." During her time in Houston, Sister Conaghan earned an MA in Geology from the University of Houston in 1971. From 1973 to 1984, Sister Conaghan taught middle school science and religion classes at Villa Duchesne and again in Houston. She also served as a volunteer at Our Lady of Guadalupe School in Houston.
In 1984, Sister Conaghan began a two-year sabbatical in Berkeley, California, where she studied theology earning an MA from the Franciscan School of Theology in 1986.
In 1986, Sister Conaghan began working at Church of the Little Flower in Coral Gables, Florida, as the director of Christian Services. She viewed her ministry as a chance to share love, courage, prayer and Scripture by serving the homebound as a compassionate listener and by forming groups of adults for prayer and outreach. In addition to her ministry in the schools, Sister Conaghan served as the area director in Miami when the United States Province was formed from the earlier five provinces. When her six-year term ended, the Provincial Team thanked her for her leadership and support during the transition, as the area grew in new life under her tenure.
In 1991, she was asked to return to the Rosary and work in the alumnae office and the archives, a ministry she loved and in which she was dearly loved. She remained at the Rosary until 2005 when the provincial, asked her to go to St. Louis to be "Mother Welcome." Sister Conaghan loved her time in the provincial office and is fondly remembered for her warm hospitality to visitors and the staff.
In 2002, the Academy of the Sacred Heart (the Rosary) in New Orleans presented Sister Conaghan with the Charles D. (Ray) Grenier Award given to a person who models a faith life consistent with the values of Sacred Heart education, who has made an outstanding contribution to the school in his or her respective area and manifests an interest in and support of the whole school. Her colleagues shared the following comments. "Sister Conaghan leaves an indelible mark on each person, the mark of the love of God. She is a wonderful ambassador for Sacred Heart, here in New Orleans, and throughout the world. She is a model of faith, compassion, and gentleness. She spreads humor and laughter wherever she goes, whether in the lunchroom or at the bedside of the ill. She has a flare for fashion and for seasonal earrings!"
Sister Conaghan retired in 2010 to Oakwood, the retirement center in Atherton, California. She spent the next twelve years there and was a much-loved member of the community, known for her liveliness, great sense of humor, and loving outreach to all of her sisters. She was looking forward eagerly to her 100th birthday on February 19, but on Saturday, February 4, 2023, Sister Conaghan went quietly to God.
Sister Conaghan is survived by her sister, Patricia (Trish) Redmond, many nieces and nephews, and her sisters in the Society of the Sacred Heart.
A Memorial Mass will be held on May 20th at 9:00 am in the Oakwood Chapel, 140 Valparaiso Avenue, Atherton, California.
Memorial gifts may be made to the Society of the Sacred Heart at 4120 Forest Park Ave., St. Louis, MO 63108 or through this website.