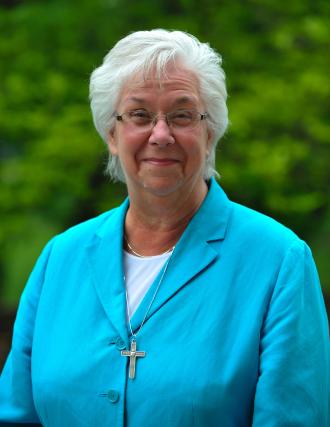 Birth: July 29, 1943
Profession: January 25, 1970
Death: March 12, 2023
Religious of the Sacred Heart, Lucie Nordmann died March 12, 2023, in Atherton, California. She was 79 years old and a member of the Society of the Sacred Heart for 60 years. Lucie was born on July 29, 1943, in St. Louis, Missouri to Bernard William Nordmann and Lucie Delor Fitzwilliam Nordmann. She was one of eight children and the only daughter.
Lucie graduated from the Academy of the Sacred Heart (City House) in St. Louis in 1961 and entered the Society of the Sacred Heart soon after in August at Kenwood. She pronounced her first vows in 1964 and made her final profession on January 25, 1970, in Rome. Sister Nordmann earned a BA in English from Maryville College in 1968, and an MA in Educational Administration in 1975 from Washington University in St. Louis.
Sister Nordmann's first teaching assignment in 1965 was at the Academy of the Sacred Heart in Grand Coteau, Louisiana, where she taught and served on the boarding school staff. In 1966, she went to Villa Duchesne in St. Louis where she taught for the next two years. She became director of the boarding school at Villa in 1968 for one year. In 1970, Sister Nordmann moved to Duchesne Academy in Houston, Texas, serving as assistant principal and director of students for two years. In 1972, Sister Nordmann returned to Villa Duchesne where she taught religion and served as department chair until 1975. From 1975 until 1982, she served as headmistress at the Academy of the Sacred Heart in Grand Coteau. While there, she was chairperson of the Evaluating Committee for Schools of the Lafayette, Louisiana, Diocese (1977-1981). She returned to St. Louis in 1982 and taught religion at Villa Duchesne for one year before moving to the Doane Stuart School in Albany. Sister Nordmann taught there for one year, then in 1984 became headmistress at Doane Stuart, a position she held for the next ten years.
She returned to St. Louis and lived at the Mason Road Community for nearly twenty years. During this time, she was director of mission at St. Luke's Hospital in Chesterfield, Missouri. She was also the head of school at Villa Duchesne and Oak Hill School from 2009-2013. Sister Nordmann served on the Boards of Trustees of the Academy of the Sacred Heart (the Rosary) in New Orleans (2009-2015) and Maryville University (2009-2013).
From 2013 to 2017, Sister Nordmann returned to Grand Coteau as the director of advancement at the school. Following this, she moved to Redwood City, California, and became the director of pastoral care at Oakwood, where the sisters recognized her loving kindness. In 2022, Sister Nordmann retired from her work in pastoral care and became a member of the Oakwood Community. 
On March 12, 2023, she suffered a collapse and was taken by ambulance to Stanford Hospital where she died very suddenly. Her unexpected death was a shock to her sisters, and she will be dearly missed. 
Sister Nordmann was preceded in death by her parents Bern and Lucie Nordmann. Her brothers include Bernie (dec.)(Betty) Nordmann, Bob Nordmann, Bill (Fran)(Mary, dec.) Nordmann, David (Cathy, dec.) Nordmann, Larry (Sue) Nordmann, John (Lisa) Nordmann, Chris Nordmann and many nieces and nephews and great nieces and nephews.
A Memorial Mass will be held on May 13th at 10:00 am in the Oakwood Chapel, 140 Valparaiso Avenue, Atherton, California.
Memorial gifts may be made to the Society of the Sacred Heart at 4120 Forest Park Ave., St. Louis, MO 63108 or through this website.