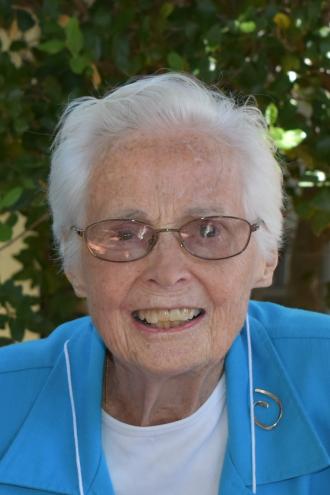 Birth: June 30, 1926
Profession: July 21, 1960
Death: July 26, 2023
Religious of the Sacred Heart Martha Curry died July 26, 2023, in Atherton, California. She was 97 years old and a member of the Society of the Sacred Heart for 70 years. Martha was born on June 30, 1926, in Chicago, Illinois, to Harry Joseph Curry and Franc Mulroy Curry. She grew up with one older brother. When she was eight years old, Martha's father died leaving her mother alone to raise her and her brother.
Martha was educated in Catholic schools from elementary school through college. She was first introduced to the Society of the Sacred Heart when she attended Barat College. It was these years, interacting with and observing these sisters, that later steered Martha herself to the Society. She recalls admiring the religious sisters for three main reasons: their clear devotion to prayer, their dedication to their work, and the love they had for one another.
After graduating from college and graduate school, she went on to teach English at a public high school in Chicago. However, she "knew there was something else." It was then that she recognized her vocation. Martha entered the Society of the Sacred Heart on January 6, 1952, at Kenwood, in Albany, New York, and made her first vows there on August 15, 1954. Afterwards, she returned to teaching, this time at Woodlands Academy of the Sacred Heart in Lake Forest, Illinois. She remained there until leaving for Rome and professing her final vows on July 21, 1960.
Sister Curry truly loved working in the classroom and continued that service for most of her active ministry. In the twenty-three years between 1960 and 1983, she taught at four different schools, including Clifton Academy of the Sacred Heart in Cincinnati, both Duchesne Academy and Duchesne College in Omaha, and Barat College. During this time, she also earned her Ph.D. in English at Loyola University.
As part of her doctoral work, Sister Curry spent a year and a half reading and researching the life and works of the late renowned author Sherwood Anderson. She chose Sherwood Anderson because he "had great influence on the writing of the short story." She read all of Anderson's published works, which included seven novels and three volumes of short stories. She then made a surprising discovery, at Chicago's Newberry Library, of three unfinished projects: Sherwood Anderson's "Memoirs," a new volume of short stories, and a handwritten manuscript entitled "The Writers Book," an autobiographical and literary essay on creative writing and the art of storytelling. Sister Curry began the difficult, almost impossible, task of deciphering Anderson's handwriting. Anderson's widow gave Sister Curry permission to edit the manuscript. The dissertation resulted in 500 typewritten pages. "The Writer's Book" by Sherwood Anderson: A Critical Edition, by Martha Mulroy Curry, was published by Scarecrow Press of Metuchen, N.J. in 1975.
Sister Curry served as principal of the high school at the Academy of the Sacred Heart, Sacred Heart Schools at Sheridan Road (1983-1985). From 1986 to 1988, Sister Curry was the associate chaplain at Aquinas Institute in Princeton, New Jersey. In 1988, she took the job as director of the Newman Center at Wayne State University in Detroit. There, she was responsible for programming, planning liturgies and prayer services, and making the Newman Center known on campus. However, her favorite part was working with the students at this public university. She held this position until 1997. She remained in Detroit working at various ministries until 2001. After leaving Detroit, she became director of the community at Kenwood. She loved this position, too. Sister Curry retired in 2008 and moved back to Chicago. She spent several years researching the history of Barat College and published Barat College: A Legacy, A Spirit, and A Name (Loyola University Press) in 2012.
Sister Curry believed that her vocation of being a vowed member of the Society of the Sacred Heart affected her life more than anything else. She said that both being vowed and living in a loving community shaped her life. In addition, she believed that St. Madeleine Sophie Barat would be very pleased with the Society today, especially the quality of prayer and community life.
Sister Curry retired in 2017 and moved to Oakwood, the retirement center for the religious of the Sacred Heart in Atherton, California, where her generous spirit and warm smile were a joy to all she encountered.
She was in hospice for several weeks this year, following her return from the hospital earlier in the summer. She enjoyed a visit from the son and granddaughter of her longtime friend, the late Sally Bredeman. On July 26, 2023, Sister Curry peacefully went to God.
The funeral liturgy took place on Friday, August 4, 2023, at 10:00 a.m. in the Oakwood Chapel.
 Memorial gifts may be made to the Society of the Sacred Heart at 4120 Forest Park Ave., St. Louis, MO 63108, or through this website.