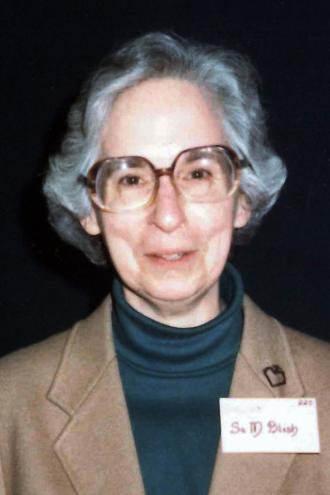 Birth: May 17, 1928
Profession: February 9, 1959
Death: June 21, 2017
Religious of the Sacred Heart Mary Blish died June 21, 2017, at Teresian House, Albany, N.Y.
Mary Blish was born in Chicago, Illinois, on May 17, 1928, the daughter of Charles Cheney Blish and Florence Walsh Blish. Although she was an only child, she was the oldest of many cousins and, according to one of them, "she was a beauty and her younger cousins loved her."
Mary was educated by the Dominican Sisters in Chicago until college when she received her BA from Maryville College of the Sacred Heart in St. Louis, Mo. She later received her MA from Manhattanville College in Purchase, New York, and, in 1967, her PhD from Saint Louis University.
In 1950 Mary entered the Society of the Sacred Heart at Kenwood in Albany, New York, made her first vows there in 1953 and her final profession of vows in Rome, Italy, in 1959.
Throughout her life Mary had the "heart of an educator." A superb English teacher, she taught in Albany, N.Y., in Grand Coteau, La., in Cincinnati, Ohio, and at Maryville College where she served as president for four years, and finally at Manhattanville College for thirteen years.
Judging from the faithful correspondence and outpouring of affection that have followed her through the years since, however, one concludes that the highlight of her ministerial life seems to have been the time she spent, from 1977 to 1991, as Visiting Professor of English at Seishin Joshi Daigaku (Sacred Heart University) in Tokyo, Japan. When she heard of Sister Blish's death, one of her Sacred Heart sisters wrote, "Through her 18 years of teaching . . . she helped students to think and explore, to quest for something their hearts desire. . . . Students, faculty and RSCJ community all remember her with deep gratitude for her irreplaceable contributions and innumerable kindnesses . . ." This tribute was made evident in the visit, just this past August, of two professors, husband and wife, who came from Tokyo specifically to visit Sister Blish who had been so important to him in his own education.
After further teaching at the University of the Sacred Heart (Song-Sim) in Chuncheon Gangwon-do, Korea, Sister Blish returned to the USA and worked as a researcher and editor for the US province of the Society of the Sacred Heart and as a tutor at Xavier University and the Wright School in New Orleans.
Wherever she went, her upright posture (which she also enjoined on others!) spoke of her dignity; the twinkle in her eye, of her sometimes mischievous humor; and the radiant smile of her faithful, joyful and loving heart. Those characteristics remained with her until the end and endeared her to the staff who cared for her at Teresian House.
Mary died as she lived: so totally given that she slipped away almost imperceptibly, into the heart of God. She is survived by numerous devoted family members and by her grateful and loving RSCJ sisters.
Sister Blish's funeral will be at 11:00 a.m. on Wednesday, June 28, in the Infant of Prague Chapel at Teresian House. She will subsequently be buried in the Kenwood Cemetery.
Memorial contributions may be made to the Society of the Sacred Heart, 4120 Forest Park Avenue, St. Louis, Missouri 63108.