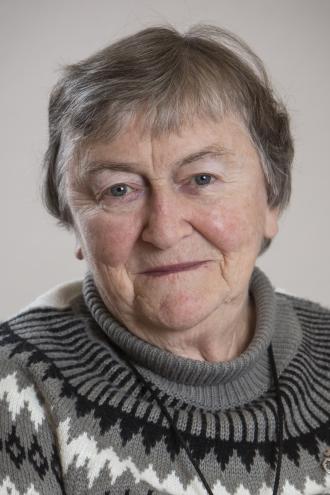 Birth: February 25, 1932
Profession: July 29, 1959
Death: May 30, 2021
Religious of the Sacred Heart, Mary Bridget Flaherty died May 30, 2021, in Atherton, California. She was eighty-nine years old and a member of the Society of the Sacred Heart for seventy years. Mary Bridget was born in Spokane, Washington, on February 25, 1932, to Francis Edward Flaherty and Helen Feeney Flaherty. Mary B., as family and friends knew her, entered the Society of the Sacred Heart in 1950 at the age of eighteen at Kenwood in Albany, New York. While she had wanted to enter immediately after graduating from Forest Ridge School of the Sacred Heart, her parents requested that she first enroll at Barat College in Lake Forest, Illinois. She remained at Barat for one year and then entered the Society. She made her first vows at Kenwood in 1953 and her final profession in Rome in 1959.
Sister Flaherty taught at Sacred Heart schools in California and Washington State and served as principal of Forest Ridge Convent of the Sacred Heart from 1965-1967. Afterward, she was treasurer and business manager for three years at the San Diego College for Women. Shortly after she arrived, the College for Women entered into a reciprocal course agreement with the College for Men. A seven-year process culminated in the corporate merger of the two colleges, thus creating the University of San Diego. Sister Flaherty was instrumental in the process, involved in the negotiations as an administrator and as a trustee. She was appointed to serve as the business manager of the new university.
From 1973 until 1982, Sister Flaherty served in provincial administration as financial director in the former California Province, overseeing the communities and the Oakwood retirement center in Atherton, California. She then went on to serve on the provincial team of the former California Province until 1982. During this time, she also worked part-time at St. Mary's Hospital in San Francisco as a nurse's aide on the night shift and at All Souls Church as a Eucharistic minister and lector. She continued at All Souls as a parish team member responsible for ongoing adult education, development and implementation of ministry programs, and visiting the sick and homebound until 1985. 
Sister Flaherty earned B.A. degrees in History and Business Administration from San Francisco College for Women (SFCW) in 1961 and a graduate degree in Chemistry from SFCW in 1966. She continued study at San Diego State University, earning an M.S. in Business Administration in 1974. In 1985, she received an honorary doctorate in Law from Seattle University.
In 1985, Sister Flaherty was appointed chancellor of the Archdiocese of San Francisco. This was the first time a woman would serve in this key executive position in a major diocese of the United States. As chancellor, Sister Flaherty advised the archbishop, oversaw the management of the chancery building, acted as notary in civil and canon law, and supervised the activities of the archdiocese. In 1989, Sister Flaherty was presented with the St. Thomas More Award from the St. Thomas More Society, which at that time was the oldest association of Catholic lawyers and judges in the West. Sister Flaherty was the first woman to receive this award in public recognition of her distinguished record of service and sacrifice in the pursuit of justice. She was chancellor of the Archdiocese of San Francisco until 1996.
During the years before she officially retired, Sister Flaherty worked in the alumnae office and in development at Forest Ridge, had close relationships with the Children of Mary, and assisted with the Associates and the local parish. In 2012, Sister Flaherty moved to a retirement center in Bellevue, Washington. One of the residents at the center, upon learning of her death, remembered Sister Flaherty as a most kind and loving person who went out of her way to make all feel welcome. He and his family considered her a friend and kept in touch with her after she moved to Oakwood, the retirement center for the Religious of the Sacred Heart, in 2014. 
On the morning of Trinity Sunday, May 30, 2021, Sister Flaherty went peacefully to God.
A funeral mass will take place on June 24, 2021, at 10:00 am in the Oakwood chapel in Atherton, California.