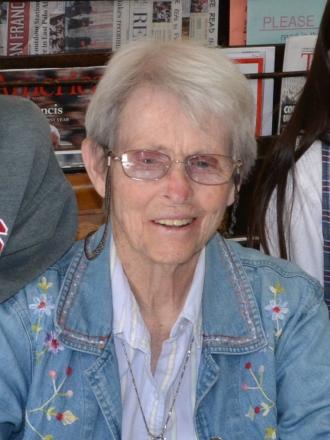 Birth: September 20, 1928
Profession: July 29, 1955
Death: December 29, 2021
Religious of the Sacred Heart, Ada Burns, died December 29, 2021, in Atherton, California. She was ninety-four years old and a member of the Society of the Sacred Heart for seventy-four years. Ada was born in Sarasota, Florida, on September 20, 1928, to Edwin Oscar Burns and Elizabeth Stevens Burns. She graduated from Notre Dame High School located in Belmont, California in 1946, and entered the Society of the Sacred Heart in February of 1947 at Kenwood in Albany, New York. Ada pronounced her first vows in 1950 and made her final profession in Rome on July 29, 1955.
Sister Burns graduated from the San Francisco College for Women in 1956 with a degree in Education. She went on to graduate studies at Catholic University earning an MS in Library Science in 1972, and a MA in Education from San Diego State University in 1977.
Sister Burns taught at the Convent of the Sacred Heart in San Francisco from 1953 to1956, followed by seven years at Forest Ridge School of the Sacred Heart in Seattle. From 1963 until 1969, she taught and was a librarian at the Convent of the Sacred Heart in El Cajon, California. In 1972, Sister Burns was the assistant librarian for a short time at Maryville College in St. Louis, Missouri, before moving on to Barat College in Lake Forest, Illinois, as head librarian, a position she held until 1974. She moved to San Diego in 1975 and served as a librarian at San Diego State University until 1984.
In 1985, Sister Burns began her work at the California School of Professional Psychology, part of the for-profit Alliant International University. Sister Burns served as library director for seven years and catalog and reference librarian until 1998. In 1994, when the University had to reduce personnel in view of a reaccreditation process, Sister Burns's position was reduced to part-time. This left her open to volunteering at the San Diego Genealogical Society. She was already a member of the board of the society and enjoyed her involvement with it.
In 1998, when Sister Burns lived in Bonita, California, she volunteered as a tutor at the Chula Vista Public Library teaching in an adult literacy program.  Beginning in 2001, she lived in Redwood City, California, and worked at the Menlo Park Public Library. For the next six years, she managed the office at the Spiritual Ministry Center in San Diego.
After many years of working, in 2013, Sister Burns retired to Oakwood, the retirement community of the Society of the Sacred Heart. She was known for her loving generosity, making greeting cards for all occasions. On December 29, 2021, Sister Burns began her day as usual but experienced a medical episode that required hospitalization. She was revived and was talking when she suddenly lost consciousness and died.
A funeral mass will be celebrated for Sister Burns on Thursday, February 10 at 10:00 am in the Oakwood Chapel.