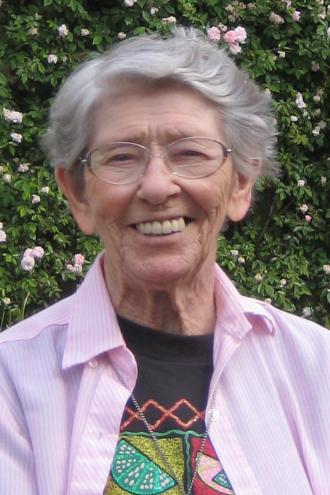 Birth: February 28, 1927
Profession: February 13, 1960
Death: July 30, 2017
Religious of the Sacred Heart, Mary Lou "Tippy" Guillory died June 30, 2017, in Atherton, California.
Mary Lou Guillory, a Religious of the Sacred Heart, was born on February 28, 1927, in Eunice, Louisiana, to Horace Guillory and Loricia Fruge Guillory. Affectionately known as "Tippy," she was one of three children and the only girl among three generations of boys! Her father was in the lumber business and also owned a rice warehouse. Her mother was a gracious woman who "wanted Tippy to act like a lady," something difficult for the spirited Tippy. Being told by her mother that she was more trouble than her brothers left Tippy feeling as if she was a great disappointment to her mother.
Tippy graduated from Eunice High School at the age of fourteen. She had a love of horses and remembers buying her first horse at an auction. She went on to acquire thirty horses! She later enrolled at Louisiana State University but had to withdraw after one year because of poor health. After she recovered, she began studies at the Sacred Heart College of Grand Coteau, Louisiana, where she graduated in 1948 with a BS in Math and a minor in science and education. She received a second BA in Math, with a minor in chemistry and education from Maryville College in St. Louis, Missouri, in 1957. For one year, beginning in 1964, Tippy enrolled in graduate studies in physics and chemistry at Saint Louis University. She later resumed graduate studies at the University of Louisiana at Lafayette, Louisiana, in 1969.
Tippy loved her time and independence at Grand Coteau. She rose to the academic challenges of her teachers whom she came to love. Her teachers recognized her exceptional talent and had her teaching chemistry and math to the freshmen. They were delighted when, after graduation, Tippy decided to stay on to teach for two more years. Besides teaching, Tippy took flying lessons and received a pilot's license. She regularly flew the owner of a plane whenever he needed to travel since he hated flying!
It was during her teaching days at Grand Coteau that Tippy first felt the call to religious life. She recounts that, "Even though I had been engaged several times to different young men, I found myself always breaking the engagements and searching to lead a better life." The superior at the time was Mother Lucille Walsh; upon learning of Tippy's desire to enter, she said, "I've been waiting four years for you to tell me." With some resistance from her parents, Tippy entered the Society of the Sacred Heart at Kenwood, in Albany, New York, on August 14, 1950. Tippy's health prevented her from living "common life" in the novitiate. Her repeated bouts of pneumonia were mentioned to the Mother General in a letter to Rome asking permission for Tippy to make her first vows. With permission from Rome granted, Tippy pronounced her first vows on February 12, 1953.
Tippy's first assignment was at Maryville College in St. Louis where she taught chemistry and physics and served as an aide in the president's office. In 1955, she was sent to the Academy of the Sacred Heart in St. Charles, Missouri, to serve as dean of students. Tippy returned to Kenwood in 1959 for probation. While there, she became very sick and required surgery. She was given the choice of having surgery in New York or St. Louis. She chose the latter since she knew the doctors in St. Louis. Tippy professed her final vows in St. Charles on February 13, 1960, having been prepared by Reverend Mother Odile Lapeyre, the superior. As she recovered, she was able to teach from a wheelchair.
In 1965, Tippy moved to Grand Coteau and was able to be present for the golden jubilee of her parents in 1966. During this time, she taught classes in science, physics, biology, and chemistry at the Academy of the Sacred Heart in Grand Coteau until 1972 when she moved to New Orleans. She then began work at the Louisiana State University School of Medicine in DNA analysis for cancer research and treatment and continued to do research for doctors at two universities while teaching. Back in Grand Coteau in 1975 for the next twenty-five years, Tippy taught at St. Ignatius Academy and was a lay minister at St. Charles parish in Grand Coteau and St. Anthony's in Eunice, Louisiana. During this time both parents suffered from deteriorating health demanding her time and attention. She took care of them while teaching at St. Ignatius and lived in a rural setting with two other RSCJ. One of the sisters described Tippy as a most generous person. She recounts that one night, a young man showed up at the door begging. Tippy gave the man twenty dollars of her personal funds. When the man met Tippy coming out of church, she gave him twenty dollars more. She always put others' needs before her own, rarely shopping for clothes; she was petite (she fit into a shoe box as an infant), but Good Will met her needs.
In 2001, after many years in Grand Coteau teaching and ministering to others, Tippy moved to Oakwood, the retirement center of the Religious of the Sacred Heart. She then had to move to the retirement center in Albany because of acute allergies, with a plan to move to the infirmary in Montreal. But at this point, the infirmary was closed and Tippy returned to Oakwood. While Oakwood is called a retirement center, it was anything but that for Tippy. She engaged in the life of the community and was assigned boys from the Sacred Heart Schools in Atherton and some from the neighboring parish to accompany on their confirmation journey. She continued her hobby of collecting foreign stamps to sell for the benefit of the Indian missions. Tippy shared that she raised $10,000 for the missions between 1972 and 1995. Tippy was very much a light in the Oakwood Community. She was loved by her sisters and always welcomed visitors with her open-door policy. She had a love for people and in her own words, "Once you are my friend, you are my friend for life."
In September 2016, Tippy was placed on hospice care after a diagnosis of a probable malignant tonsillar tumor, for which she wanted no further investigation. She remained active in community until a few days before her death in the early morning hours of July 30, 2017, when she went peacefully to God. Her loving spirit and her ever-ready smile will be missed.
A Memorial Service will be held Wednesday, September 20, 2017 at 10:00 a.m. in the Oakwood Chapel in Atherton, California.
Burial will take place at the Sacred Heart Cemetery in Grand Coteau, Louisiana following a memorial Mass on Saturday, September 30, 11:00 a.m. at Sacred Heart in Grand Coteau.
Memorial contributions may be made to the Society of the Sacred Heart, 4120 Forest Park Avenue, St. Louis, Missouri 63108.