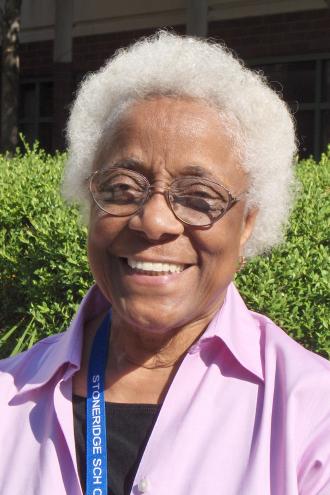 Birth: December 17, 1924
Profession: July 30, 1956
Death: October 2, 2019
Religious of the Sacred Heart, Mary Louise "Mamie" Jenkins died October 2, 2019, in Atherton, California.
Mary Louise Jenkins was born on December 17, 1924, in Bronx, New York. Affectionately known as "Mamie," she was one of ten children born to James Melton Jenkins and Rosalie Henderson Jenkins. Her parents were originally from the South where her father was famous locally as a professional singer. All of her siblings either sang or played a musical instrument. Mamie grew up in a loving home grounded in Christian values, and she credited the example of her parents and brothers and sisters for her preparation for the religious life. She felt loved and accepted with a sense of security and dignity. She went to public schools in the Bronx for elementary school and graduated from Wadleigh High School in Manhattan. Her high school principal was a Catholic and shared information with Mamie about a music scholarship at Manhattanville College of the Sacred Heart. At seventeen, Mamie took the entrance exam for Manhattanville, passed with excellence, and was accepted. However, when completing her paperwork, the college officers discovered that Mamie was not Catholic; but since she had already been accepted, the Religious of the Sacred Heart said she would be welcomed. She had also been offered a scholarship at Sarah Lawrence College, but decided on Manhattanville because it was within walking distance of her home. Mamie was the first African American student to graduate from Manhattanville in 1946, where she earned a B. Mus. in Voice and Piano. In 1965, she earned a B.S. Mus. in Liturgical Music. She also attended Maryville College and earned a B.A. in Music Therapy in 1980. During her college years, Mamie, accompanied by her music teacher, gave concerts throughout the United States.
Mamie was raised a Methodist and converted to Catholicism at Manhattanville. While she maintained that she was not pressured to convert, she recalled that she felt, "…that there was something different and I was attracted to it." It was during her sophomore year in college that she decided to become a Catholic, much to the disappointment of her mother, who feared that her daughter would become a nun. During her senior year, Mamie knew in her heart she wanted to enter religious life. She chose the Society of the Sacred Heart because the education of youth was something she valued, and the Society was the community she knew best. Mamie's teachers at Manhattanville, and her family had given her examples of service, commitment, and self-dedication. These values influenced her decision. At that time, religious orders required converts to the faith to wait two years before entering the novitiate. Mamie used those two years to earn an M.A. in Music Education from Columbia University in 1948. In September 1948, Mamie entered the Society of the Sacred Heart at Kenwood in Albany, New York. As well as being the first African-American to graduate from Manhattanville College, Mamie was the first African-American to enter the Society of the Sacred Heart. In 1951, she pronounced her first vows at Kenwood, and on July 30, 1956, she made her final profession in Rome.
Mamie's early years in the Society were devoted to teaching. When the Society sent her to do some summer work in Harlem, Mamie decided to teach herself the guitar, because she "couldn't very well carry a piano around with me." She believed that inner city children would enjoy the guitar more than the piano. At barely five feet tall, she oftentimes had to stand on a box to be seen!
Mamie taught at the Convent of the Sacred Heart at Kenwood in Albany, New York; Sacred Heart Greenwich, in Connecticut; and at Convent of the Sacred Heart (91st Street), in New York. From 1967-1982, Mamie was "loaned" by the former New York Province to Sacred Heart schools in the Midwest. She taught Music and other subjects at Villa Duchesne in St. Louis, Missouri. Her guitar lessons were extremely popular at Villa with forty students taking classes twice a week. Mamie also taught for a number of years at the Academy of the Sacred Heart in Grand Coteau, Louisiana. When asked about her being loaned, Mamie said it did not matter where she was sent, "East or Midwest, teaching children anywhere is the same. And, I love it." In 1982, Mamie was called back east to Stuart Country Day School in Princeton, New Jersey, where she taught fifth grade. After a sabbatical in 1988, she joined the staff at Stone Ridge School of the Sacred Heart in Bethesda, Maryland. She spent fifteen years at Stone Ridge where she served as campus minister, preparing liturgies, and did private tutoring in Math, English and Reading to the lower grades. She also gave guitar lessons. In addition to her work at the school, she offered music therapy to Alzheimer's patients at the Circle Manor Nursing Home and ministered to physically handicapped children at Forest Knolls Elementary School in Silver Spring, Maryland. During her time at Stone Ridge, Mamie produced a CD, Songs of Faith. She sang with the men and women of the Gospel Mass Choir, under the auspices of the Washington Performing Arts Society.
Mamie served on a number of organizations and committees. Of note, are the National Catholic Conference for Interracial Justice, the Committee for Fostering Religious Vocations (Louisiana), Bishop's Commission on Human Rights (St. Louis, Missouri), and the National Association of Music Therapists.
In 2008, Mamie moved to Oakwood, a retirement community for Religious of the Sacred Heart, where she brought much joy to others through her music and upbeat view of life. She continued to work with young children at St. Joseph's and put on a concert for the Oakwood residents in the spring. Her positive outlook helped her through pain associated with physical diminishment. She believed it was important to contribute to life in the community. With her infectious smile, she continued to bring joy to others.
On October 2, after she had spent the morning singing and talking with her doctor and the staff at lunch, Mamie's heart just stopped beating and she peacefully went to God.
A memorial Mass for Sister Jenkins will be celebrated on Saturday, November 9, at the Oakwood Chapel followed by burial I the Oakwood cemetery.
Memorial contributions can be made to the Society of the Sacred Heart, 4120 Forest Park Avenue, St. Louis, Missouri 63108 or online here.