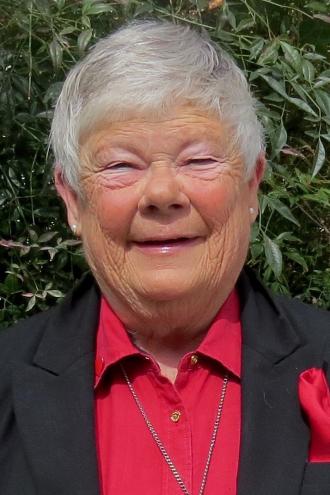 Birth: April 8, 1941
Profession: August 22, 1971
Death: January 21, 2022
Religious of the Sacred Heart, Mary Schumacher, died January 21, 2022, in Atherton, California.
Mary Schumacher was born on April 8, 1941, in Chicago, Illinois, to George Peter Schumacher and Mary Monica Reddin Schumacher. She was eighty-one years old and a member of the Society of the Sacred Heart for sixty years. Mary was the youngest with an older brother, George. When she was six years old, her mother died. Her great-aunt then cared for the two children.
Although much of Mary's early years centered within a two-mile radius of her house, upon turning ten, she was given the freedom to explore. Alone, she would ride her bike to Lake Michigan, take the subway to downtown Chicago and visit the Museum of Science and Industry. Always having a love for the game, she recalls playing softball in the alley with the boys in her neighborhood and frequenting Chicago Cubs games. In fact, there was one summer where she attended every home game, receiving a free pass to the next game after volunteering at Wrigley Field.
During eighth grade, with the help of her great-aunt Martha, Mary sold the most subscriptions to the Catholic newspaper. The prize for selling the most subscriptions was a four-year scholarship to the Academy of the Sacred Heart. During high school, Mary first experienced the Religious of the Sacred Heart. She felt that they were not "nunny" and noted how evident was their concern for each person. This concern proved to be one of the main reasons she later chose to join the Society.
The seeds of Mary's vocation had actually been planted when she was still in elementary school. Throughout her twelve years of Catholic education, she was taught mainly by religious sisters. She learned through experience that nuns could be a source of comfort. After her first day of kindergarten, she found herself alone, as the person who was to walk her home had left without her. Later, she witnessed her mother's fatal heart attack. On both occasions, the first person on the scene was a Catholic sister.
Mary joined the Society of the Sacred Heart on September 7, 1962, and made her first vows on August 22, 1965. After the novitiate, she completed a B.A. in History at Maryville College. In 1967, she began teaching at Hardey Preparatory School for Boys in Chicago before leaving for probation. She made her final profession in Rome on August 22, 1971.
In addition to her undergraduate degree, Sister Schumacher earned a Master's degree in Religious Education from Seattle University (1976); and a Master of Science in Pastoral Care and Counseling from Creighton University (1987). She received post-graduate certification in chemical dependency from the College of New Jersey, and certification from the National Counseling Certification Board. This board also awarded her a Master's in Addiction Counseling.
Sister Schumacher continued working in Sacred Heart schools until 1977. During this time, she served at Barat College in Lake Forest, Illinois, as campus minister and at Duchesne Academy in Omaha. In 1977, Sister Schumacher began parish ministries at St. Columbkille in Papillion, Nebraska. Here, she was the director of religious education, facilitated divorce groups, led RCIA, and coordinated volunteers. Additionally, she was on the building committee for the new church the parish was building. After graduating from Creighton University with a Master's degree in Counseling, she began working as a therapist with family services in Omaha.
In 1989, Sister Schumacher moved to St. Charles Borromeo Parish in Skillman, New Jersey, and continued her pastoral ministry. One year later, she began working at Crawford House in Skillman as a therapist, working with both individuals and groups. In 1994, she moved to Philadelphia to work for ReEnter, Inc. to focus solely on spirituality groups.
Over the next twenty-four years, Sister Schumacher continued her counseling work. She worked at Libertae Inc. in Bensalem, Pennsylvania; Catholic Charities and Mount Carmel Guild in the Trenton, New Jersey Diocese; and the Betty Ford Center in Rancho Mirage, California. While she has worked in many different types of counseling—group and individual therapy, family orientation, domestic violence, grief groups—her favorite was work with chemically dependent persons. "I have a passion for working with addicts and facilitating their getting well."
In 2009, Sister Schumacher continued with her work in spiritual direction, leading retreats, and counseling work in Palm Desert, California. She always placed an emphasis on building relationships with each person she encountered. In addition to her spiritual direction ministry, Sister Schumacher served at her local parish, Sacred Heart, in Palm Desert, as RCIA catechist (for those interested in entering the Catholic Church) and a monthly retreat. The monthly retreat focuses on Ignatian (Jesuit) and 12-Step spirituality, including the 19th Annotation Retreat of St. Ignatius. She also facilitated several recovery weekend retreats in several states and in Canada.
In January of 2019, Sister Schumacher officially retired to Oakwood, the retirement center for the Religious of the Sacred Heart. For the next two years, "Shoe," as she was affectionately called, continued building relationships with each sister she met. In late 2021, Sister Schumacher's health declined significantly. Her family was called and they had a happy visit with her. Sister Schumacher told her family she was "looking forward to my journey." On January 21, 2022, Sister Schumacher began the final stage of her journey and went peacefully to God.
A funeral mass will be celebrated for Sister Schumacher at 10:00 a.m. on Saturday, February 26th, 2022, in the Oakwood Chapel.