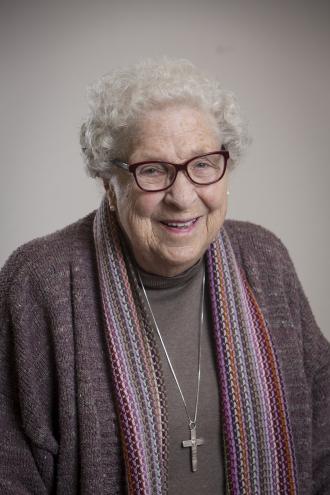 Birth: July 13, 1925
Profession: March 8, 1950
Death: March 1, 2020
Religious of the Sacred Heart, Mary Willis Stewart, RSCJ, died March 1, 2020, in Atherton, California.
Mary Stewart was born on July 13, 1925, in Philadelphia, Pennsylvania, one of nine children born to Henry Stewart and Margaret Magee Stewart. All nine of the Stewart children attended Ravenhill Academy, run by the Assumption nuns. When Mary was in fifth grade, the three youngest were sent to boarding school at the Convert of the Sacred Heart, Eden Hall, in Philadelphia, Pennsylvania.  Mary graduated in 1943. In her own words, "I was especially attracted by the vitality and faith of Mothers Gabrielle Husson, Theresa Hill, and Gertrude Fox." Mary went on to attend Manhattanville College, and had four more years of Sacred Heart education, strongly influenced by Mothers Agatha Cronin, Josephine Morgan, and Eleanor O'Byrne. "I believe that my vocation began with all these contacts."
She entered the Society of the Sacred Heart in 1947 at Kenwood in Albany, New York after graduating from Manhattanville with a degree in history.  Mary received an MA in education in 1951, a year after she made her first vows in 1950.  She also earned a certification in CPE (Massachusetts) with an emphasis in geriatrics, specifically the process of aging and care of the elderly and dying. She made her final profession in Rome in 1955.
From 1961 to 1988, Sister Stewart taught at Sacred Heart schools, including Stone Ridge in Washington, D.C., Eden Hall in Philadelphia, and Carrollton in Miami. She also served as minister to the elderly at the Sacred Heart parish in Pawtucket, Rhode Island; as diocesan director of ministry to the sick in Memphis, Tennessee; and as coordinator of social ministry in the diocese of Metuchen, New Jersey, where she established and coordinated programs for social ministry in twenty-five parishes.
During her nine years in St. Louis, Sister Stewart taught art to women incarcerated at the St. Louis County Jail and served as a prison chaplain and art therapist. She was also active in St. Anselm's parish social justice programs. A talented watercolorist, she exhibited her work at the St. Louis Watercolor Society. After a sabbatical in 1987-88, during which she studied art and theology at Princeton, she began offering art classes to students at St. Madeleine Sophie's Center in El Cajon, California, giving individual and group instruction. Sister Stewart created most of her early watercolors in San Diego. She had a studio at the University of San Diego in a space beside Founders' Chapel. She was a member of a watercolor society in San Diego, showed at many art exhibits, and sold many of her watercolors. It is common to see a "Mary Stewart" watercolor hanging on the walls of the many places she served. Her down-to-earth, upbeat nature drew people to her, and she made many friends over the years with whom she kept in touch. The word "merriment" came to the mind of one of her sisters who knew her, saying that Mary loved life and enjoyed good food, good friends, and good times.
In April 2006, Sister Stewart moved to Oakwood, the retirement center for the RSCJ in Atherton, California, in order, as she put it, "to love and serve my sisters in their final gift to God." At Oakwood, she experienced the flourishing of her artistic talents. She became a prolific painter as her works began to appear in a variety of settings. During these years, she created and sold over 600 paintings. Her exhibits began in San Diego and were followed by others in Scottsdale, Arizona, Newport Beach, California, and lastly in Menlo Park, where she was awarded First Prize in the Menlo Art League Exhibit. For over a decade at Oakwood, Sister Stewart was an active presence. With her keen mind, she delighted all in the community, taking part in all of the activities, helping in a variety of ways, visiting our room-bound sisters, and aiding the nursing staff in their many duties. She also delighted the community by her skill at playing bridge and her colorful and stylish wardrobe.
On March 1, after a brief final illness, Sister Stewart went peacefully to God.  Her good friend Ginny Hamel arrived to be with her during these final days. Sister Stewart outlived her eight siblings and survived by numerous nieces and nephews and her sisters in the Society of the Sacred Heart.
A memorial mass was held for Sister Stewart on Wednesday, March 11, 2020, in the Oakwood Chapel, followed by burial and the sharing of memories.