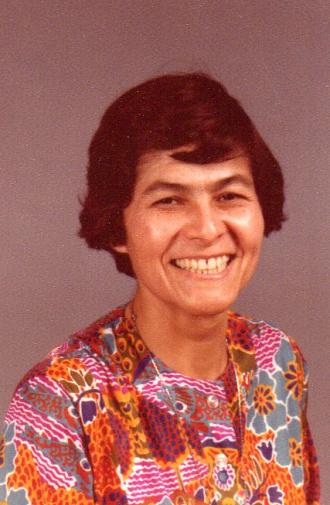 Birth: December 31, 1935
Profession: February 3, 1967
Death: April 5, 2022
Religious of the Sacred Heart, Mercedes Serna Suarez, died April 5, 2022, in Albany, New York.
Mercedes Serna was born on December 31, 1935, in Santa Barbara, Colombia, to Carlos Antonio Serna and Ana Joaquina Suarez. She was 86 years old and a member of the Society of the Sacred Heart for 65 years. Mercedes entered the Society in 1957 at the Convent of the Sacred Heart in Newton, Massachusetts, as a coadjutrix sister, a member of the group of sisters who were assigned domestic work. Her sister, Angela, entered the Society a month later at Newton.
Mercedes made her first vows in 1960 at Newton, and her final profession on February 3, 1967, in Santa Maria de Huerta, Spain. By that time, the distinction between coadjutrix and choir sisters had been abolished; Sister Serna, an intelligent woman, took advantage of the opportunity to earn a college degree and establish herself as a professional educator. She attended Fairfield University and earned a BA in Modern Languages, followed by an MS in Bilingual/Bicultural Education from Fordham University in 1978. She also earned a graduate certificate in Theology from Boston College in 1988 and was a catechist in the Archdiocese of Detroit.
She began teaching in 1978, and taught for four years at Benedictine High School, in Cleveland, Ohio, followed by Notre Dame High School in San Jose, California in 1983. She went on to teach at Newton Country Day School for two years until 1986. After a one-year sabbatical, she taught Spanish at Tufts University in Boston, from 1987 to 1990. Sister Serna also taught Spanish at Fisher College in Boston, and from 1987 to 2008, she taught at Mount Ida College of the University of Massachusetts Amherst. She was a beloved teacher at Mount Ida College and loved her work there and her students.
Sister Serna resided in Albany for many years and was remembered for her contemplative heart and a life of simplicity. She had been battling cancer for some time and decided to stop chemo because it was so hard on her. As her health continued to fail, Sister Serna went to live at Teresian House in Albany to receive the care she needed. In her long illness, she was patient and without complaint.
On April 5, 2022, Sister Serna peacefully went to God. A couple of days before she died, she expressed how grateful she was that Jesus was being so good to her. She was also able to talk by phone to her sister, Angela, who said they laughed together for the first time in ages.
A funeral mass will be celebrated for Sister Serna in early June, a date to be determined. 
Memorial contributions may be made to the Society of the Sacred Heart, 4120 Forest Park Avenue, St. Louis, MO 63108.