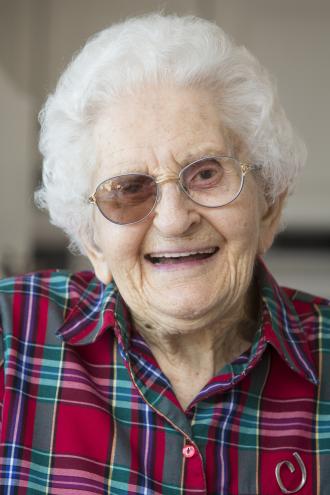 Birth: December 13, 1921
Profession: February 10, 1960
Death: April 18, 2023
Religious of the Sacred Heart, Merle Pedersen, died peacefully, at the age of 101 years, on Tuesday, April 18, 2023, at Caritas Residence, Halifax.  Born in 1921 in Philadelphia, Pennsylvania, she was the daughter of Daniel Pedersen and Louise Bahner Pedersen. Spending her first birthday aboard a ship headed to Europe for her father's work, Sister Pedersen grew up in Sweden.
She moved to Canada in 1945 and began work with the Consulate General of Sweden in Montreal.   Having begun catechesis to join the Catholic Church while still in Sweden, she brought a letter of introduction with her to give to the Jesuit Provincial in Montreal.  He in turn suggested she contact the Religious of the Sacred Heart who had someone tasked with catechesis.  Merle arrived at Atwater Ave with a volume of Thomas Aquinas under her arm and after meeting with Mother Wynne, was quickly received into the Church there in the chapel of Atwater Ave.  She entered the Society of the Sacred Heart at Kenwood in Albany, New York, in 1948, where she made her first vows in 1950; she made her final profession in Rome, Italy, in 1956.
Over many years, Sister Pedersen taught in Sacred Heart Schools across Canada: Sault au Récollet and Atwater Avenue in Montreal, Vancouver, Winnipeg, and Halifax. Sister Pedersen had fond and often humorous memories of her time teaching. Along with teaching, she had a long apostolate in Montreal and Watertown, Ontario, counseling individuals and couples as well as working with companies through her work with PRH, Personalité et Relations Humaines, a worldwide organization for personal growth. She felt this work was what she had been born and called to do, and her fidelity to these established relationships, even after retiring, is a testament to how much it meant to her.
Sister Pedersen spent the last nine years of her life at Caritas Residence where she was much loved and cared for. Predeceased by her parents and her brother, Donald, she is survived by her brother, Tommy (Stockholm, Sweden). She will be missed by her family, friends, and her Sacred Heart sisters.
The funeral will be held in the chapel of Barat Residence at 1455 Summer Street, Halifax, on Monday, April 24, at 10:30 a.m. In lieu of flowers, please consider making a donation to the Sacred Heart School of Montreal or to the Sacred Heart School of Halifax.
The Religious of the Sacred Heart wish to thank the Sisters of Charity of Halifax for their gracious welcome at Caritas Residence and all of the nursing and support staff who cared for Sister Pedersen. We wish to convey our deepest gratitude to Mrs. Sharron Dolan for her wise and devoted medical attention and care.