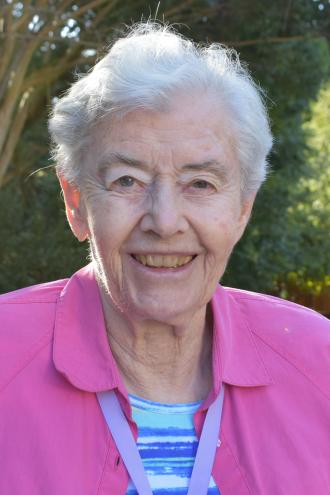 Birth: June 15, 1931
Profession: July 30, 1958
Death: September 12, 2023
Religious of the Sacred Heart Anne (Nancy) Lassotovitch died September 12, 2023, in Atherton, California. She was 92 years old and a member of the Society of the Sacred Heart for 73 years. Nancy was born on June 15, 1931, in Fresno County, California, to Gioachino Lassotovitch and Farley Ranson Lassotovitch. She grew up on a cattle ranch with her brother and two sisters and attended the Convent of the Sacred Heart in Menlo Park, California. During her years at the school, Nancy came to realize that she had a vocation to the religious life. She entered the Society of the Sacred Heart in 1950 at Kenwood and made her first vows there in 1953. Nancy made her final profession in Rome on July 30, 1958.
Sister Lassotovitch attended the former Lone Mountain College for Women, earning a BA degree in History in 1959. She went on to graduate studies at Lone Mountain earning an MAT in History Education in 1965. Sister Lassotovitch undertook post-graduate work during the summers (1967-1973), first at the University of San Francisco and then at Harvard University. She also attended The Jesuit School of Theology at Berkeley (1974-1975), followed by a twelve-month program of Clinical Pastoral Education at Methodist Medical Clinic in Des Moines, Iowa (1975-1976).
Sister Lassotovitch's teaching career was primarily based in California, where she taught at Sacred Heart Schools in Menlo Park for a number of years. She began teaching at Convent of the Sacred Heart Menlo in 1953 then at Convent of the Sacred Heart, Broadway, in San Francisco in 1958. From 1964-1968, Sister Lassotovitch taught and served in administrative roles at Convent of the Sacred Heart in El Cajon, California. She returned to Menlo Park in 1968 and was director of several programs at the summer camp and school, serving children ages 3 to 10 years. She was also dean of students of the girls' high school, director of the residence school, and taught geometry, history, and religion.
In 1973, Sister Lassotovitch moved across the country to Stone Ridge Country Day School in Bethesda, Maryland, where she was the assistant director of student activities. She returned to Sacred Heart Schools in Menlo Park in 1974 and assisted the business manager at the school. During the summer, she supervised renovations and repairs for the school, which included designing a dormitory and an arts and crafts center. After a year at Menlo Park, Sister Lassotovitch moved to Chicago, where she was a full-time volunteer in the Office of Senior Community Programs at Catholic Charities in the Archdiocese of Chicago. She served as organizer and program developer, acting as a consultant to parish staff in the formation of senior citizen clubs in the Chicago Metropolitan Area.
From 1976-1979, Sister Lassotovitch served in the Diocese of Des Moines as a chaplain with the Iowa Catholic Hospital team involving six hospitals and one nursing home. She returned to California in 1979 and joined the pastoral care team at Mercy Hospital in San Diego. She also served in evangelization at Mary, Star of the Sea Parish in La Jolla. Sister Lassotovitch remained in California for the rest of her ministerial career. Beginning in 1980, and for the next nine years, she acted as a legal assistant, caseworker, and mental health advocate in San Jose (1981-1982); volunteer coordinator and teacher at Saint Patrick's Cathedral, San Jose (1982-1983). She taught at St. Joseph's School in Menlo Park for one year, then she taught ESL classes at two senior centers in San Jose and also substituted at a diagnostic center in San Francisco. Sister Lassotovitch continued to serve in Menlo Park and Atherton until she retired in 2013 to the Oakwood Retirement Community in Atherton. She was an active member of the Oakwood community until her health declined. She died peacefully in her sleep on September 12, 2023.
A memorial mass will be held on Thursday, September 21, 2023, in the chapel at Oakwood in Atherton, California.
Memorial gifts may be made to the Society of the Sacred Heart at 4120 Forest Park Ave., St. Louis, MO 63108 or through this website.