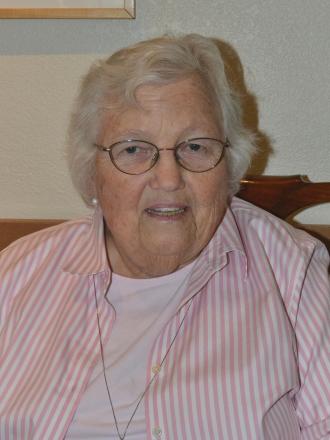 Birth: March 5, 1932
Profession: February 8, 1960
Death: June 2, 2021
Religious of the Sacred Heart, Patricia "Pati" Desmond died June 2, 2021, in Atherton, California. She was eighty-nine years old and a member of the Society of the Sacred Heart for seventy years. Patricia was born on March 5, 1932, in San Francisco to Daniel Joseph Desmond and Corinne Marie Eastre Desmond. Patricia was the oldest of the third generation of her family who had deep ties to San Francisco. Years before she was born, her ancestors were raising goats in the middle of what is now downtown San Francisco. When she was young, her family built a house in a new neighborhood; but before too many houses could be built, World War II broke out, halting the construction. Because of this, Patricia and her three siblings had an abundance of land around their home to explore.
During the early years of her education, a priest came to talk to the class about the propagation of faith and about the children who were being abandoned in China. Patricia wanted to help these children and believed she would need to become a nun to do so. She considered this conviction to be the start of her vocation. Patricia was sent to the Convent of the Sacred Heart in Menlo Park, California, for seventh and eighth grades. As she observed the religious when they were praying, she knew she wanted to be a part of their lives. When she approached one of the sisters about this feeling, she was told to wait until after high school and then revisit them. Patricia did not stay at the Sacred Heart for high school; instead, she attended Notre Dame in Belmont, California.
During her mother's illness, Patricia and her father attended daily mass, praying that her mother would recover. Unfortunately, her mother died when Patricia was seventeen. Before her mother died, she told her daughter "it would be okay" if she entered a religious community. This affirmation gave Patricia the courage she needed to take the next step even though her father was not supportive at first. It was after her father remarried that she entered the Society of the Sacred Heart, in 1951, at Kenwood in Albany, New York. Patricia pronounced her first vows there in 1954 and made her final profession in Rome in 1960.
Beginning in 1954, Sister Desmond taught in Sacred Heart schools in California and Seattle, Washington. She taught at Convent and Stuart Hall in San Francisco and at Menlo Park. Her time at Broadway stood out as she began teaching there in 1960 for six years, returning in 1968 to teach in the junior high and to become the dean of students. Since she had started teaching in the elementary school and transitioned to the junior high school, she had many of the same students as they progressed through the grades at Broadway. "We kind of grew up together." A former student who has fond memories of Sister Desmond found her a "most fair and kind women with the ability to connect with students in the most effective way." In 1976, Sister Desmond moved from the classroom to the San Diego diocese where she began working as the associate director of vocations. Over the next twenty-four years, Sister Desmond was a counselor, homeroom moderator, teacher, associate dean of students and archivist at different Sacred Heart schools, including those in California and Newton, Massachusetts. She also spent one year in Japan teaching English and recently served as the archivist for the Schools of the Sacred Heart in Atherton, California. She also acted as a part-time receptionist at Oakwood, the retirement center for the religious of the Sacred Heart. Of her role at Oakwood, she said, "I never stopped educating or helping others find a way to connect their lives to God. It is part and parcel of my life."
Sister Desmond was an alumna of the former San Francisco College for Women, where she earned her undergraduate degree in history in 1959, and her MAT in History in 1964. She later earned an M.Ed. in Counselor Education. from the University of San Diego in 1979 and an M.Ed. in Special Education from St. Mary's College in 1991.
In 2014, Sister Desmond retired to the Oakwood community, stating, "At this stage of my life, I think it is my relationship with the open Heart of Jesus that gives me a sense of peace and joy. I hope this is evident to those with whom I come into contact."
Sister Desmond went peacefully to God on June 2, 2021. She had been in touch with family and friends until the last few days.
A funeral mass will be held for Sister Desmond at the Oakwood Chapel, the date to be determined.