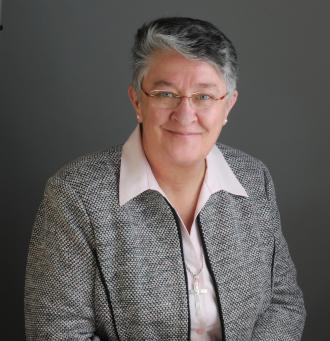 Birth: September 22, 1950
Profession: January 13, 1991
Death: May 29, 2023
Sister Shelley Lawrence died peacefully, at the age of 72 years, on Monday, May 29, 2023, at Elisabeth Bruyère Hospital, Ottawa.  Born in 1950 in Halifax, NS, she was the daughter of Vincent Lawrence and Dorothy Hanrahan. She spent her childhood by the sea in Ferguson's Cove, NS, where she learned her love of fishing. Sister Lawrence entered the Society of the Sacred Heart in Boston, MA, in 1980. She made her first vows in Chateauguay, QC, in 1983, and her final profession in Rome, Italy, in 1991. Over many years, Sister Lawrence was involved in education, first as a teacher in Winnipeg, MB, and then as a high school chaplain for 25 years in the Ottawa Catholic School Board. At the time of her death, she was serving as an elected Trustee to the Ottawa Catholic School Board. Sister Lawrence was totally committed to publicly-funded Catholic education and gave her life to it. In her own words, "I have two great loves in my life. The first is being a member of the Society of the Sacred Heart - an international religious community of women serving 41 countries of the world…whose mission is to make known the love of the Heart of Christ…through education. My second love is the Ottawa Catholic School Board. I have spent almost half my life serving as an educator in the OCSB. I will continue to do this as a Trustee for as long as I can. I have never been happier!" Sister Lawrence was predeceased by her parents.  She will be missed by cousins, friends, colleagues, former students, and her Sacred Heart Sisters.
The Funeral Mass will be held at Canadian Martyrs Catholic Church, 100 Main Street, Ottawa, Ontario, on Saturday, June 3rd, at 11:00 a.m. In lieu of flowers, please consider donating to Elisabeth Bruyère Hospital in support of palliative care (www.bruyere.org). A Memorial Mass and interment will be held in Halifax at a later date. The Religious of the Sacred Heart wish to thank the staff at Elisabeth Bruyère Hospital Palliative Care, the Ottawa Hospital Cancer Centre, General Practitioner, Dr. Mona Goubran, and all who lovingly cared for her. 
 
Service Details