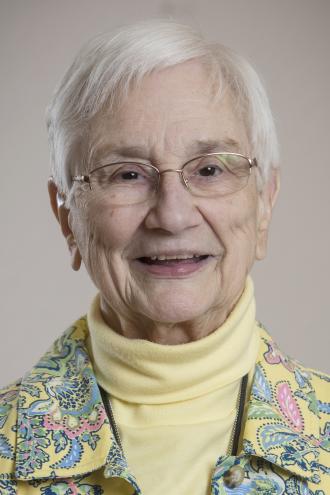 Birth: March 12, 1938
Profession: July 21, 1964
Death: December 4, 2017
Religious of the Sacred Heart, Anita Louise (Tita) Lapeyre, died December 4, 2017, in Atherton, California.
Anita Lapeyre, a Religious of the Sacred Heart, was born on March 12, 1938, in New Orleans, Louisiana, to Felix Henri Lapeyre and Marie Therese Villere. "Tita," as she was affectionately known, was one of ten children and the oldest of six girls. Both sides of her family, particularly her mother's side, were prominent in Louisiana history, her mother's great grandfather having served as the first governor of the state. Tita's father was the youngest of eleven children; two brothers entered the priesthood and one sister entered the Society of the Sacred Heart. One of her mother's sisters was also a Religious of the Sacred Heart. With the influence of so many religious vocations in the family, the seeds were sown for Tita's own vocation.
Tita attended schools of the Sacred Heart from the age of three and attended Maryville College in St. Louis for one year. It was no surprise to her parents, when in 1956, after her freshman year at Maryville, she entered the Society of the Sacred Heart. As she was only eighteen when she entered what was then a cloistered congregation, Tita lost contact with her siblings, missing out on such events as birthdays, weddings, and First Communions. As a result, Tita did not have an opportunity to form adult relationships with them. She found this particularly hard during her first year in the novitiate. In 1959, Tita made her first vows on her twenty-first birthday. She went to Rome to prepare for final vows, which she professed in 1964.
Sister Lapeyre continued her studies at Maryville College, graduating in 1965 with a B.A. in history, followed by graduate studies at Loyola University in New Orleans, where she received a M.Ed. in counseling in 1969. Tita went on to receive a Management Certificate in Corporate Ministry from Saint Louis University; and in 1980, she began a training program in Clinical Pastoral Education at St. Mary's Health Center in St. Louis, where she was certified by the National Association of Catholic Chaplains. Over the years, she enrolled in a number of programs in leadership and supervision.
Her ministerial career spanned a number of years, first as teacher in Sacred Heart Schools at the Academy of the Sacred Heart (The Rosary) in New Orleans, Louisiana; the Academy of the Sacred in St. Charles, Missouri; the Academy of the Sacred Heart in Grand Coteau, Louisiana; and City House in St. Louis, Missouri. In 1968, she began teaching at the Academy of the Sacred Heart in New Orleans, then at Duchesne Academy in Houston.
Tita characterized her ministerial career as having two phases: the "hard" ministries of her early years and the "exciting times" of her later ministries. The challenging ministries were those surrounding teaching and education, for which Tita believed she was not suited. Her post as dean of admissions at Maryville College proved to be particularly challenging when the college moved from an all-women's to a co-educational institution. This change was very unpopular with some alumnae, and Sister Lapeyre caught the brunt of it as she was the person who admitted men to the institution.
While at Maryville, she also served as a college counselor, a position she found life giving and more suitable to her gifts than administration or classroom teaching. In this work, she found a home for herself. In addition to being certified in clinical pastoral education, Tita also received certification as a CPE supervisor. At the conclusion of her work at the Regis Retirement Center in St. Charles, Missouri, in 1986, she became the coordinator for the United States Catholic Conference Commission on Certification and Accreditation and was one of the first lay persons, and one of the first women, to serve the Conference in this area. Tita later wrote the standards for certification of chaplains and accreditation of Catholic training programs.
In 1987, Tita moved to El Cajon, California, and was drawn to the St. Madeleine Sophie Center for adults with developmental disabilities, a work established by the Society in 1966. Over the course of the next ten years, Tita began the first CPE program outside a hospital setting. This led to the founding of the Center for Urban Ministry, a CPE program that utilized community sites for students' placements. She eventually became the center's executive director and held that position from 1996 to 2008. This work started her collaboration with the Episcopal Community Services, which later expanded to the Los Angeles area and merged with St. Camillus Center for Pastoral Care. Tita retired from St. Camillus Center in March 2009 when she celebrated her 50th anniversary of first vows.
This anniversary brought her great peace, and she moved to the Society's retirement community at Oakwood in Atherton, California, in 2010, to become director of pastoral care. In 2013, after suffering unremitting pain in her leg, she underwent an MRI, which revealed pancreatic cancer. After surgery, chemotherapy and radiation, Tita was relieved of her duties as director of pastoral care. She did rally completely from the cancer but tired easily. Despite her diminished state, Tita remained ready to continue her ministries, grateful that her years of living out her vocation gave her great trust in God.
This past November, Tita was put on hospice care. She declined very quickly and finished her earthly journey on December 4, 2017, joining her family and so many she had accompanied on this journey.
Tita is survived by her brothers, Paul Lapeyre (Judy), Felix Lapeyre (Diana), Michel Lapeyre (Ruth), and Francis Lapeyre (Mary Anne); her sisters, Marguerite Young, Odile Lagarde (Stewart), Jeanne Adams (Philip), and Madeleine Torre (Jean) and thirty-two nieces and nephews, and seventy-eight grand nieces and nephews. She is survived also by her sisters in the Society of the Sacred Heart.
A Funeral Mass will be held on Saturday, December 16, 2017, in the Oakwood chapel, followed by burial in the Oakwood Cemetery.
Memorial contributions may be made to the Society of the Sacred Heart, 4120 Forest Park Avenue, St. Louis, Missouri 63108.