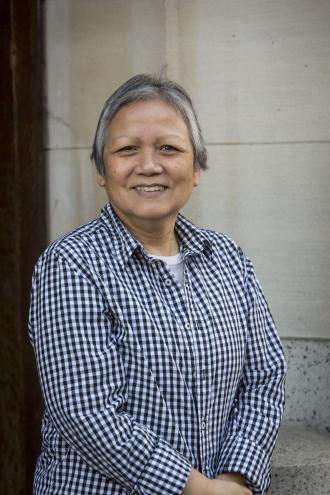 Birth: December 26, 1955
Profession: January 14, 2001
Death: February 19, 2023
Religious of the Sacred Heart, Stephany Agbay Veluz, died February 19, 2023, in Atherton, California. She was 67 years old and a member of the Society of the Sacred Heart for thirty-two years. Stephany was born on December 26, 1955, in the Philippines, to Filomeno F. Veluz and Rufina Agbay. She was one of four children with an older sister who died two days after birth. Stephany's father had a son from a previous marriage. When his first wife died, he married Stephany's mother who was twenty-two years younger. Stephany adored her father viewing him as very serious and hardworking who loved her very much. She found her mother very beautiful, low-key, subservient in the family, and dependent on her husband. Her mother was very religious, teaching Stephany about prayer, fidelity, and obedience. This would later influence her desire for a religious vocation.
Before moving to the U.S., Stephany had earned a BSN in nursing in 1977 from Colegio de Santa Isabel, Naga City, Philippines, and a graduate degree in nursing in 1981 from Colegio de Santa Isabel. Stephany first moved to the United States in 1983 when she was 28 years old and worked as a nurse at Alexian Hospital in New Jersey for one year. In November of 1984, she entered the Cenacle Community but left after three years and returned to the Philippines for a short time. In 1987, Stephany moved back to the U.S. and began working as a nurse at St. Charles Hospital in Luling, Louisiana, for the next two years. In 1989, she enrolled at the Maryknoll School of Theology in Ossining, New York.
During her time at Maryknoll, Stephany was introduced to the Society of the Sacred Heart through a chance meeting of the RSCJ from the Lawrenceville Community in Princeton, New Jersey. "What struck me then was the profoundly felt sense…the prayerful attitude of the members of that community. I had a sense of coming home." Stephany's retreat with a community member, Sister Lorette Piper, introduced her to the charism of the Society of "warm availability and generosity." These encounters fueled her desire for a religious vocation.
Stephany entered the Society of the Sacred Heart in 1991 at Layton House in Cambridge, Massachusetts, and completed her studies at Maryknoll School of Theology earning an MA in Theology in 1992. She pronounced her first vows in 1994 in the chapel of the Newton campus of Boston College and made her final profession in 2001 in Rome.
After Stephany entered the Society, she started working as a staff nurse at Little Sisters of the Assumption Family Services in East Harlem, New York. Later during her novitiate, she worked as a campus minister at North Cambridge Catholic High School in Boston from 1992 to 1994 and as a camp counselor at Sprout Creek Farm during the summer of 1993. After Stephany made her first vows, she returned to the 118th Street community in New York and to Little Sisters, which she considered a blessing, because shortly afterward she was diagnosed with breast cancer, which she fought for many years. She believed the Spirit was at work that she could continue to live and work with people who knew and loved her. Stephany remained at Little Sisters until 1997. While she was in New York, Stephany received training as a spiritual director and continued to work in this capacity with homeless men and women.
From 1996 to 1997, Stephany worked with the formation of Christian base communities and did some grant writing at the Life Experience and Faith Sharing Association located at 117th Street in New York. She also worked with people who were homeless in the New York City shelters for a short time. She found the experience of supporting the people to whom she ministered a gift. "I would like to believe that I have been a loving presence to them as well. With them, I felt the unconditional love and support of Jesus himself." In 1997, Stephany moved to San Diego where she joined the staff at the Spiritual Ministry Center for three years. She expanded the work of the Center to include spiritual direction with the homeless. She also worked as a hospice nurse in San Diego.
After final vows in 2001, Sister Veluz returned to her work at the Life Experience and Faith Sharing Association. From 2005 until 2010, she was a psychiatric nurse at St. Vincent's Hospital in New York working with children and adolescents. In 2010, she was accepted as a CPE resident by Vitas Innovative Hospice Care in San Diego for a one-year program. Sister Veluz also served on the Initial Formation Team of the province as director of candidates. 
In addition to her ministries, Sister Veluz was a valued and much-loved member of the New York/Fairchester area and the communities she called home. She joined the 120th Street Community in New York in 2015, followed by the Avila Community in Albany in October of 2022. Her sisters recounted their experience of knowing Sister Veluz and her contributions to the communities where she lived.
While living at the 120th Street Community Sister Veluz served as an RSCJ presence at Convent of the Sacred Heart, 91st Street in New York. Her responsibility was formation to mission. She chaired the Heritage and Spirituality Council, a small group of faculty who ran programs for the adult community at 91st Street, which included retreats, prayer services, and masses, all to ensure that Madeleine Sophie's vision was lived out at the school. She made every event special and personal; she added beautiful cloths to the altar and included candles and music, all carefully curated for each service. Sister Veluz led a parent group who came together to pray the Rosary with her, and she made many connections and relationships with families. Even while she was sick, she was in touch with many members of the community and prayed for people who were facing challenging times. For many important events at school, such as curriculum nights or any large gathering, Sister Veluz wrote personalized prayers specific to the events. She was always available to anyone. For example, she would eat breakfast with the Flik workers in the cafeteria, and she would spend her lunchtime with groups of middle school students who looked to her for guidance, spiritual and otherwise! Stephany could be very funny, and she often had everyone laughing during Heritage and Spirituality Council meetings and in the Religion department. Stephany was always checking in with everyone at school—students, parents, faculty and staff—and made sure that everyone truly felt loved, supported, cared for, and respected. She will be sorely missed by the community. 
Despite her busy ministry at Convent of the Sacred Heart, 91st Street, she was always available for area prayer, meetings, Zoom calls during COVID, and the renewal of vows on the Feast of the Sacred Heart. Her tenderness for the children and staff at the school, her commitment to the Philippino community, where she had other nurse friends, and her ability to size up difficult situations with intelligence and wit endeared her to us all. During her holiday time, she volunteered at Life Way, a safe house for trafficked women at an undisclosed location.
Completing her work at 91st Street in 2021, Sister Veluz moved to the Avila Community in Albany for a new ministry with the RSCJ there. Less than three months later, a brain tumor was discovered, and she never returned to her Avila home. However, in those few months, she was a wonderful addition to the community, providing her nursing expertise and sharing the duties of community coordination. She was quick to see needs, generous with her time, compassionate and caring in medical consultations, and she made numerous pots of jasmine rice to supplement lunches and dinners. She did not have a great sense of direction, so trips to the doctor often included a tour of Albany, but no matter; during her days at Avila, the quality of medical and pastoral care skyrocketed.
When Stephany became visibly ill, and once Covid was ruled out, her symptoms were initially thought to be from a very bad cold. After a week or so, something far more serious was suspected, and she was admitted to St. Peter's Hospital where a brain tumor was diagnosed. She was transferred to New York University Medical Center for months of specialized care before being moved to Oakwood in Atherton, California, for her final days. Her battle with brain cancer was valiant, and her caretakers in the greater New York and Albany area and at Oakwood marveled at her courage.
On February 19, 2023, Sister Veluz went to God, to the One to whom she had given her love and her life.
A Liturgy will be celebrated for Sisters Veluz on Friday, April 14, 2023, at 10:00 am (Pacific) in the Oakwood chapel. There will be a waiting room for the Zoom starting at 9:45 am that morning.
Join Zoom Meeting
https://us02web.zoom.us/j/8575409135