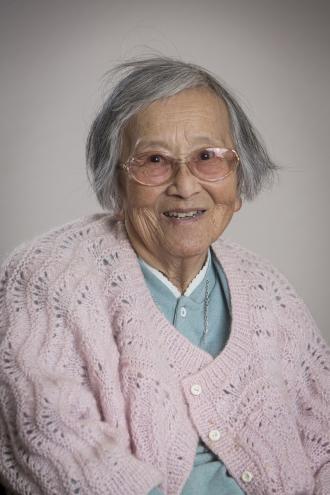 Birth: July 11, 1921
Profession: July 30, 1951
Death: March 31, 2021
Religious of the Sacred Heart, Yasuko (Mary Theresa) Teshima, died March 31, 2021, in Atherton, California. She was ninety-nine years old and a member of the Society of the Sacred Heart for seventy-eight years. Sister Teshima, affectionately known as "Tesh," was born on July 11, 1921, in Monterey, California, to Sannosuke Teshima and Ito Takagi Teshima. Her parents emigrated from Japan to the United States shortly before World War I and settled in California. They arrived with three children; the oldest was fifteen years old. Tesh, the youngest, was born later, a few months before her eldest sister had her first child. Since they were so close in age, they were cared for together until her sister and her husband returned to Japan and had five more children, while Tesh remained in California raised by her mother. She had no memory of her father and was told he had died. She had memories of moving around quite a bit with her mother and her married sister who remained in the U.S. Her only brother was old enough to work in an American household in San Francisco; since he did not live with Tesh and her mother, she had no memories of interacting with him, only that she had a "big brother." While she felt cared for, she was aware that her mother as the sole parent was an anxious provider. Tesh worked during her summer vacations in high school, was close to her peers, and remained close to a friend from kindergarten. She remembered many happy times at the Catholic kindergarten run by the Divine Word Fathers and taught by the Helpers of the Holy Souls (eventually renamed the Holy Helpers) in San Francisco. This continued until World War II separated "our ways from friends and teachers." 
Tesh attended public elementary, high school, and college with Japanese classes and religious instruction continuing at the Mission. A young religious who worked at the Mission impressed Tesh who idolized her and wanted to be in her presence whenever she could. This was the start of a dream. She inquired into different religious orders, but none of them seemed to fit. With her mother's permission, she began attending Catholic services and was baptized at the age of ten and later received the rest of the sacraments. Tesh participated in all the activities of the Mission and took on greater responsibilities as she grew older. She loved singing, dancing, participating in school plays, and tennis. She placed in an oratorical contest in high school; as a result, she was chosen to give speeches in Japanese and English.
A memorable event for Tesh was a three-day retreat given by a young Jesuit. While she could not recall the content of the retreat, the experience created a deep desire to give herself to God's service. This desire was still remote, as her family assumed that she should prepare to work to support herself. After she graduated from San Francisco City College in 1941, Tesh went to work as a bookkeeper for a Japan-U.S. brokerage firm, living with her married sister in Los Angeles. On December 8, 1941, when the U.S. entered World War II following the bombing of Pearl Harbor, life changed drastically for Tesh and her family. From that point on, her workplace was under surveillance by the FBI, and within a month the managers from Japan were sent to a special camp. In the following months, all Japanese nationals and their children living in California were gathered together by the U.S. government. Tesh returned to her mother and friends, and all were sent to the provisional camp at the Tanforan Race Track near San Francisco. Later she was interned in Topaz, Utah. As a U.S. citizen, Tesh looked for ways to establish herself outside the camp. In 1942, through friends and priests in San Francisco, she was accepted as a student at Duchesne College of the Sacred Heart in Omaha, Nebraska. As Tesh came to know the Religious of the Sacred Heart, she became more convinced of her calling to religious life. After much prayer and consultation with a Jesuit priest, Tesh entered the Society of the Sacred Heart on July 1, 1943, at Kenwood. It was an agonizing decision because she would not be returning to her family who remained in the Utah camp. Her two and a half years in the novitiate concluded with her first vows in 1946 and her final profession on July 30, 1951.
Sister Teshima had earned a two-year degree in Business at San Francisco City College in 1941; she earned a bachelor's degree in History at Barat College of the Sacred Heart in 1950. She went on to graduate studies at Stanford University, earning an M.A. in Education in 1951. Sister Teshima taught and served as assistant treasurer for over twenty years at Duchesne Academy of the Sacred Heart in Omaha, Nebraska. She also conducted reading workshops during the summers at the school. Later, for a number of years, she volunteered as a social worker at the Japanese American Service Committee in Chicago and as a speech therapist with Japanese special needs children. While in Chicago, she piloted an open classroom concept at the Academy of the Sacred Heart and continued teaching at Sacred Heart Schools in Chicago and Lake Forest, Illinois. She also worked in summers in Lake Forest, developing a crafts workshop for the retired RSCJ. In 1974, she returned to California to work at St Madeleine Sophie's Center in El Cajon. In 1977, she was sent to the Sacred Heart International School in Tokyo, where she taught ESL classes to the primary grades for two years. She was chair of the English Department for two years at the Sacred Heart Junior College in Sapporo, Japan, and taught ESL classes to nurses at Tenshi Nursing College in Sapporo.
Following her ministry in Tokyo, Sister Teshima was sent to the Philippines where she taught at the major seminary at the University of San Carlos in the Diocese of Cebu City. She counted these years in Japan and the Philippines as times of growth, broadening her horizons as an educator and as a person. As Sister Teshima, though Japanese, had been born in the U.S., she had to adapt to cultures, traditions, and values very different from those of her American upbringing and lifestyle. She learned to appreciate these differences, and while her insufficient knowledge of the Japanese and Filipino languages prevented her from working in retreats and prayer groups, she felt rewarded in her classroom ministry with seminarians in Cebu, nursing students and children and adults in Japan. She was greatly affected by the "spiritual poverty" and "first-worldness" of Japan, and the faith life of the people of the Philippines in spite of their material poverty.
Sister Teshima returned to the U.S. in 1988, and for the next nine years worked in pastoral ministry at Kenwood in Albany, New York, and then in San Francisco, returning there in 1996 to work with an agency visiting nursing homes in the area.
In 2004, at the age of eighty-three, Sister Teshima retired to Oakwood, the retirement community of the Religious of the Sacred Heart in Atherton, California, where she had many happy years. Shortly after her evening meal on March 31, 2021, she went quietly to God.
A Funeral Mass will be celebrated for Sister Teshima on Thursday, June 3, 2021, at 10:00 am in the Oakwood Chapel, 140 Valparaiso Avenue, Atherton, California.