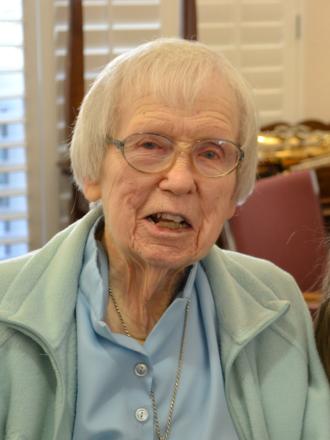 Birth: December 27, 1917
Profession: August 1, 1946
Death: January 24, 2018
Religious of the Sacred Heart, Lorraine Lawrence, died January 24, 2018, in Atherton, California.
"Born during a heavy blizzard on December 27, 1917, in Libertyville, Illinois – a village north of Chicago – to Mary Kathryn Gannon and Elmer Lawrence, Lorraine Alice was the second oldest of eight children. The father of her half-sister, Agnes, who was three years older than Lorraine, died when Agnes was only a few months old. Lorraine described her home as the center of all the children in the neighborhood. "My mother never had to worry about where we were."
After attending the first three grades in the public school next to her house, Lorraine went to the newly opened St. Joseph's School. From there she won a scholarship to Holy Child High School in Waukegan, and from there a scholarship to Barat College in Lake Forest, Illinois. After two years, Lorraine planned a career in health management and earned a medical technology degree from St. Therese Hospital in Waukegan. In her own words, she said, "I worked several months in a hospital in Fort Dodge, Iowa, until I realized that this could not be a lifelong commitment."
Mother Margaret Reilly at Barat College encouraged Lorraine to consider a vocation, which, as she stated, "I did not dare to aspire to." She entered the Society of the Sacred Heart at Kenwood, Albany, New York, on September 7, 1938, in the middle of a storm. No electricity, vast corridors, and flickering candlelight were her welcome! After pronouncing first vows on March 15, 1941, she returned to Barat College, where her science credits, Kenwood Juniorate credits, and additional course work earned her a B.S. degree. Accompanied by Sister Shirley McDonald, she commuted each summer to Marquette University in Milwaukee, to obtain a Masters in Science.
After a short stint at Duchesne College in Omaha, Nebraska, in February of 1946, along with four other RSCJ, Lorraine boarded a Liberty Ship, spending twenty-two days on a stormy Atlantic Ocean en route to Rome and probation. She commented, "Only when we reached Gibraltar did we know our destination: Genoa, where it was warmer outside than inside. No heat for the Italians for four years of war!" A bus ride overnight on very bad roads brought the probanists to Rome on the day that Victor Emmanuel III was deposed.
Lorraine recalled that probation was a very peaceful time. She was impressed at how the nuns had coped with the rigors of war. Since the Society was still cloistered, she was limited to a few outings to see famous religious sites. Then, on August 1, 1946, she made her final profession of vows and was sent to Naples for five weeks before making an ocean voyage on a troop transport back to the States.
In the years that followed, Lorraine was sent to the Catholic University of America in Washington, D.C., for her PhD in chemistry, which she received in 1950. She returned to Barat College for five good years of teaching. During this time, one of her students, Theresa Teshima, RSCJ, recalls attending a physics class under a professor whose teaching was way above the heads of undergraduate students. The nuns individually went to the superior to report the situation. To remedy the problem, the superior sent Sister Lawrence and another RSCJ scientist to attend the lectures to explain later to his students what the professor was teaching. Lorraine was featured in an article in the Chicago Tribune in 1954 about her work as a ham radio operator at Barat College. Later, after obtaining a radio-phone transmitter, Lorraine formed the Barat College Radio Club, in which students joined her in transmitting to all parts of the U.S., Canada, and South America.
Following her years at Barat, Lorraine spent a short interval at the San Diego College for Women as it sought accreditation. Then in 1956, she changed places with Agnes Schmidt, RSCJ, at the San Francisco College for Women (Lone Mountain), where she stayed until its doors closed more than twenty years later!
At this point, Lorraine devoted herself to a variety of tasks in the City, before moving to the business office in Menlo Park in 1982. Nancy Morris, RSCJ, headmistress of the school, "tapped me for the glorified position of director of services to regulate the use of the facilities," as Lorraine described it. "We had all kinds of events, such as weddings and meetings, which brought in much needed revenue," she said. "In the meantime there were many activities at Oakwood to participate in." Sister Morris spoke of Lorraine as "brilliant…a trait that became very clear when she became a member of the financial team as 'payables administrator' in the business office at Menlo. She could scare people with her utter directness, but all knew that she was a hard worker and honest."
Over the years, Lorraine's soft side became more and more apparent. Sister Morris remarked, "Her incredible talent for doing things with her hands rivaled only that of our deceased sister, Mary Lou Warner. She was a wonderful cook, seamstress, and knitter. She made some quilted place mats for the Gatehouse community [in Menlo Park] and crocheted a lovely 'throw' for our couch. She served many RSCJ by altering their new clothes. And she responded to all requests within twenty-four hours—a truly amazing woman. Moreover, Lorraine was informed on all kinds of subjects."
In later years, Lorraine organized bridge groups, knitting groups, and all kinds of gatherings, which created a variety of communities, which included our lay friends, at Oakwood. Her collection of poetry, entitled "Whatever," was completed in a poetry class in 2015. The topics covered all areas of life. Whatever Lorraine did, she did without ostentation, in her quiet, self-effacing manner.
Lorraine's 100th birthday on December 27 was observed with a wonderful celebration at Oakwood. After the first of the year, she started to decline. Lorraine had been on hospice for several months. After she was anointed, she was able to say a faint "thank you." Lorraine requested that her door remain open so that she could be connected to the rest of the community. She quietly slipped away in the early morning hours of January 24.
Lorraine is survived by her sister, Mary Neal, and her brother, John Lawrence, both of Arizona, and her sisters in the Society of the Sacred Heart.
A funeral mass will be held on Saturday, February 3, at 10 a.m. in the Oakwood Chapel located at 140 Valparaiso Avenue, in Atherton, California. Burial will be in the Oakwood Cemetery.
Memorial contributions may be made to the Society of the Sacred Heart, 4120 Forest Park Avenue, St. Louis, Missouri 63108.