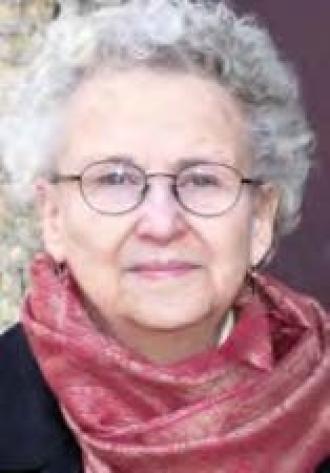 Birth: February 6, 1934
Profession: July 22, 1965
Death: April 12, 2021
Religious of the Sacred Heart, Nancy Finn died April 12, 2021, in Atherton, California. She was eighty-seven years old and a member of the Society of the Sacred Heart for sixty-two years. Nancy was born in Chicago on February 6, 1934, to Joseph John Finn and Elaine Madden Finn. She had one sister Janet who pre-deceased her. Nancy maintained close relationships with Janet's four children, John (Martha), Nancy (Doug Brophy), Teddy, and Michael (Laura), and many great-nieces and nephews. After graduating in 1956 from Barat College in Lake Forest, Illinois, with a BA in Art, Nancy entered the Society of the Sacred Heart at Kenwood the following year. She made her first vows in 1959 and her final profession in Rome on July 22, 1965.
Sister Finn's early years in the Society were devoted to teaching at Sacred Heart Schools in Chicago, the Academy and Hardey Prep, and at Convent of the Sacred Heart, Clifton, in Cincinnati, Ohio. She was the Head of School at the Academy of the Sacred Heart in Chicago from 1969-1975. During these years, Sister Finn completed graduate studies at Xavier University in Cincinnati, Ohio, earning an M.Ed. in Guidance and Counseling in 1976.
Sister Finn spent nineteen years at different times during the 1960s through the 1980s at Woodlands Academy in Lake Forest, Illinois, where she served as dean of students, director of the community service program, taught photography, and for a time served as a house parent living with the boarders.
During Sister Finn's final years at Woodlands, she was director of Social Justice Outreach. In 2005, Woodlands Academy honored her for her many years of service to the school. The head of school at that time shared that Sister Finn was a "dedicated Religious of the Sacred Heart, who has kept us connected to our heritage and tradition and to our Sacred Heart roots." The president of the Service Club, who worked with Sister Finn for three years, said she was a model through her kindness and generosity for all the students who crossed her path. Sister Finn was known for her sense of humor, her dedication to service, and her artwork, which adorned the school in posters, awards certificates, and calligraphy. Her eye for color and beauty influenced the students and the faculty and staff. 
Sister Finn studied at the Art Institute in Chicago where, in 1990, she earned a BFA in Drawing and Painting. During the 1990's, Sister Finn worked at the Art Institute of Chicago photographing the textile collection. Many of her photographs are features in their books.
In 1999, Sister Finn was named the area director of RSCJ in Chicago. During the consultation process, her sisters mentioned her gifts of creativity and energy, her ability to make decisions, and her willingness to share the work, calling on the gifts of others. Sister Finn was a member of the Kenmore Community in Chicago until last year when her frail health made it necessary for her to move to Oakwood, the retirement center for the Religious of the Sacred Heart in Atherton, California. On the morning of April 12, 2021, Sister Finn died. While her death was unexpected, she took beauty from the day before with her as she had had a lovely day outside in the spring weather. 
A memorial will be celebrated for Sister Finn in the Oakwood chapel in Atherton, California, and there will be a Funeral Mass on June 12, 2021, at 10:30 am in the Woodlands Chapel followed by burial in the Barat cemetery.